Republican presidential candidates bash Trump during second debate
Simi Valley, California - Seven Republican presidential candidates tussled over immigration, China, and the economy Wednesday at the second GOP primary debate, but saved some of their most strident remarks to slam frontrunner Donald Trump for spurning the showdown.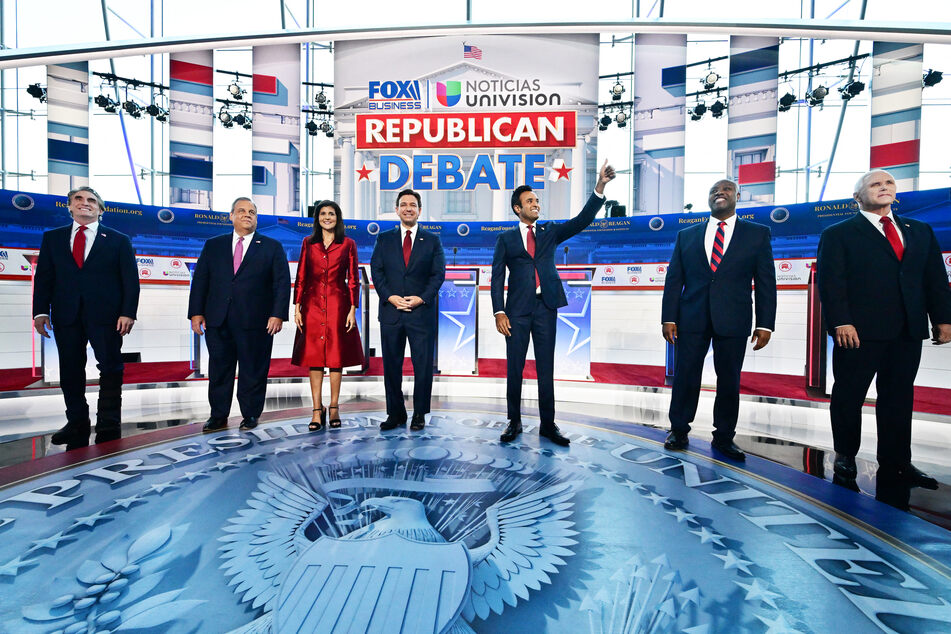 The former president, who is battling multiple criminal cases, has decided to skip the debates, and instead met auto industry workers in the battleground state of Michigan.

Trump's no-show prompted former New Jersey Governor Chris Christie – the ex-president's biggest critic among the candidates – to accuse the 77-year-old tycoon of hiding "behind the walls of his golf clubs."
"You're ducking these things, and let me tell you what's going to happen. You keep doing that, no one up here is gonna call you Donald Trump anymore. We're gonna call you a Donald Duck," he said, earning boos for the zinger.
Christie was facing off against Trump's chief rival, Florida Governor Ron DeSantis, as well as political newcomer Vivek Ramaswamy, former UN ambassador Nikki Haley, and Trump's vice president Mike Pence.
South Carolina Senator Tim Scott and North Dakota Governor Doug Burgum rounded out the field for the clash at the Ronald Reagan Presidential Foundation and Institute in Simi Valley, California, moderated by Fox Business and Univision.
DeSantis and Christie take a pop at Trump
More than 2,000 miles away in Michigan, Trump eschewed what he called a "waste of time" in favor of attempting to boost his blue-collar credentials and attack the pro-worker reputation cultivated by President Joe Biden, who visited striking union members in the state on Tuesday.
That didn't stop him from becoming a major talking point at the debate.
"Donald Trump is missing in action. He should be on this stage tonight," DeSantis, a distant second in polls, said. "He owes it to you, to defend his record, where they added $7.8 trillion to the debt that set the stage for the inflation that we have."
Christie criticized the former president's record on controlling immigration, an issue central to the current deadlock over government funding paralyzing Congress and threatening to shut down the government.
Biden campaign dismisses "not serious" candidates
Despite a fractious debate, with the candidates regularly shouting over one another, the candidates put forward various shades of far-right views on immigration, policing, and climate change.
But there was genuine division over the war in Ukraine, with Christie, Scott, and Pence defending US support for Kyiv, in contrast with skepticism from DeSantis and Ramaswamy.
There were several questions about the growing challenge from Beijing, and Ramaswamy defended his attendance at an event hosted by Chinese-owned video app TikTok, which is banned on US government devices, by saying he was reaching out to young people.
"Honestly, every time I hear you, I feel a little bit dumber for what you say," Haley told the entrepreneur.
The Biden campaign offered a withering perspective on the policy proposals aired over the two-hour scuffle, especially on border control.
"Not one person on that stage is serious about enacting meaningful immigration reform, and it shows," spokesperson Kevin Munoz said in a statement.
Cover photo: Frederic J. BROWN / AFP