Ukraine war: US to announce new sanctions as separatists halt humanitarian convoy
Kyiv, Ukraine - Stand-offs on the battlefield and at the negotiating table hardened on Tuesday as Ukraine rejected a Russian ultimatum to surrender the port city of Mariupol and Russia said peace talks had yet to reach any tangible conclusions.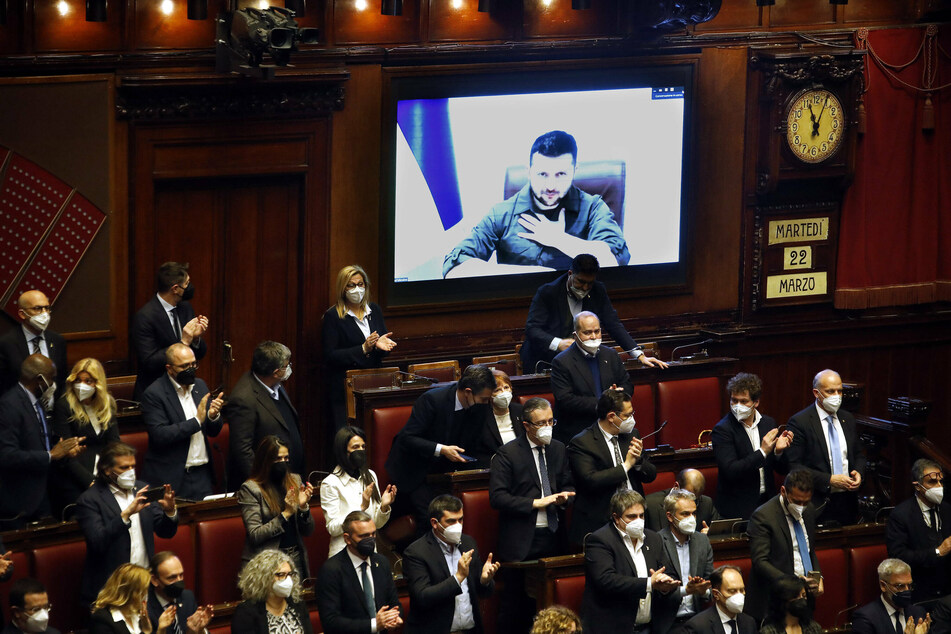 As Russia's invasion of its western neighbor nears the one-month mark, there's little evidence that the savagery on the battlefield is yielding any results other than immense suffering. Russia claims advances, but Ukraine says the sides are in a stand-off.

Most information out of the country is impossible to verify, an effort made even harder by Russia's clampdown on information about the invasion. That clampdown got even tighter on Monday as a Russian court labelled the already-banned social media platforms Facebook and Instagram as "extremist."
Ukrainian President Volodymyr Zelensky said any ultimatums from Moscow would be rejected, and said he plans to put all agreements reached with Russia through peace talks to a nationwide referendum for public approval.
It was unclear what the sides were talking about as they gathered for another hour and a half of talks on Monday, before breaking into working groups.
Zelensky is insisting on eventually meeting with his Russian counterpart, Vladimir Putin, something that the Kremlin has so far refused to consider. The Kremlin said on Monday that those talks are not in the cards until the negotiators present a detailed plan. It demanded more "dynamism" from the Ukrainians.
On Tuesday, more humanitarian corridors are planned for the besieged city of Mariupol, where hundreds of thousands of people are still stuck with no power, heating, food, or water. Here's the latest news on that and all other developments on day 27 of the war.
UPDATE, March 22, 4:40 PM EST: Pro-Russian separatists halt humanitarian convoy near Mariupol
The US and its allies will soon announce "a further package of sanctions" against Russia, the White House said on Tuesday. The new actions will be revealed when President Biden is in Europe to attend NATO and EU summits later this week, National Security Advisor Jake Sullivan said.
He also said "one of the key elements" of the announcement will be a tightening of existing sanctions to make it more difficult for Moscow to evade the measures.
Pro-Russian separatists have stopped a humanitarian convoy not far from Mariupol, a senior official in Kyiv said. Fighters from the self-proclaimed Donetsk People's Republic took several Ukrainian civil defense workers "hostage" in Manhush, six miles west of Mariupol, Deputy Prime Minister Iryna Vereshchuk said on Ukrainian TV on Tuesday night. The detained people had been driving buses in which civilians were supposed to be evacuated, Vereshchuk said. The escape route had been agreed with the International Red Cross.
Kyiv accuses Moscow of bringing women and children in particular to Russia against their will from their homes in the Donetsk and Luhansk regions. The Ukrainian Parliament's Human Rights Commissioner Lyudmyla Denisova said these people were being housed in Russian camps near the border and that their phones and documents had been taken from them.
Ukrainian officials said that they have retaken Makariv, a suburb of the capital.
Russian troops have damaged 20 homes and business buildings in Lozova, according to its mayor Serhii Zelensky. At least one person was killed and nine others injured.
The Ukrainian State Emergency Service reported that a children's hospital has been shelled in Severdonetsk. Seven children and 15 adults were evacuated, it said.
UPDATE, March 22, 3:05 PM EST: US official confirms Russian troops are facing major difficulties
The Russian military's advance across Ukraine continues to be slowed by major logistical difficulties, the United States said on Tuesday. A senior Pentagon official, who spoke to the media on condition of anonymity, said that there were shortages not only of food and fuel, but also of proper cold-weather gear for the soldiers.
"We picked up indications that some troops have actually suffered and were taken out of the fight because of frostbite," he said.
The Defense Department official attributed the logistical difficulties to continued strong resistance from Ukrainians and poor planning. Difficulties in supplying fuel were also allegedly affecting Russian naval ships at sea, while the troops also had problems communicating among each other, he said.

Russian forces were now thought to be firing from the sea upon the besieged port city of Mariupol. In the Sea of ​​Azov, the Russians have gathered some seven ships for this purpose, he said.

UPDATE, March 22, 12:15 PM EST: Opposition figurehead Navalny has sentence extended
Alexei Navalny, Russia's most prominent Kremlin critic, was found guilty of embezzling funds for his anti-corruption foundation on Tuesday, a sentence that added nine years to his time in prison.
Along with the embezzlement charges, he was also found guilty of insulting a judge during a previous trial. He was ordered to pay a 1.2-million-rouble (about $11,400) fine, according to the Interfax news agency.
The judge said Navalny was guilty of large-scale fraud in the interest of his now-banned organization. He put himself on the "path of deception and abuse of the trust of the wealth of strangers," said Judge Margarita Kotova.
Navalny is both nationally and internationally the most prominent opponent of long-time Russian President Vladimir Putin. The multiple legal proceedings against him have been criticized as politically motivated.
"First he [Russian President Vladimir Putin] tried to kill Alexei and, when that didn't work, he decided to keep him in jail forever," said Navalny spokesperson Kira Yarmysh, referring to a failed 2020 assassination attempt.
As if to stress the dangers, Navalny's lawyers were briefly detained after the most recent verdict, according to Navalny's team and press reports. They were released shortly after.
UPDATE, March 22, 12:00 PM EST: Fires burning near Chernobyl
Several fires have erupted in the restricted area around the former Chernobyl nuclear power plant, according to the Ukrainian parliament, which cited satellite data from the European Space Agency.
An overall seven fires covered an area of almost a square mile, the Rada said late on Monday. The area around the nuclear reactor – the site of the worst-ever civilian nuclear accident – has been under Russian control since early in the war.
The fires were "probably caused by the armed aggression of the Russian Federation – namely by shelling or arson," the Rada said. This could not be independently verified.
However, there have been repeated forest and wildfires there in the past. Major fires erupted around the nuclear ruins in spring 2020. At that time, the authorities repeatedly assured that it presented no danger to the population.
UPDATE, March 22, 11:30 AM EST: Zelensky said over 100 children killed so far
At least 117 children have been killed so far in Russia's war on Ukraine, Ukrainian President Volodymyr Zelensky has told Italian lawmakers.
"But 117 will not be the final number," he warned in a video link to both chambers of parliament in Rome. "They keep killing," he said, according to the Italian translation.
Zelensky called on Italy to freeze Russian assets and confiscate luxury goods such as yachts, arguing that this was necessary to stop Russian President Vladimir Putin. "You only need to stop one person so that millions can survive."
Zelensky said he had spoken by phone with Pope Francis earlier, who had encouraged him in the army's fight for Ukraine's freedom.
"I answered him: Our people became an army when they saw how much suffering the enemy brings, how much destruction it leaves behind, how much bloodshed it demands."
Zelensky wrote on Twitter that a mediating role by the Vatican "would be appreciated." The Ukrainian ambassador to the Holy See renewed an invitation to Francis to visit the war zone.
UPDATE, March 22, 6:30 AM EST: Ukraine promises to leave no one behind in Mariupol
Ukrainian forces will attempt to open three humanitarian corridors for people hoping to flee areas around the besieged city of Mariupol on Tuesday, says Deputy Prime Minister Irina Vereshchuk, in a video posted on Telegram.
The corridors would lead people from communities of Berdyansk, Yur'ivka, and Nikolske to the city of Zaporizhzhia.
She said it is clear that the transports will not have enough space, so she asked people waiting to flee to listen to the organizers. She said no one would be left behind and that there will be daily evacuations until everyone is cleared out of the city.
About 130,000 of the city's original 440,000 residents are still in Mariupol, according to the Russian Defense Ministry.
UPDATE, March 22, 6:00 AM EST: Russian official says relations with US "on the verge of breaking off"
The Ukraine conflict has brought Russia-US relations to breaking point, according to Russian Deputy Foreign Minister Sergei Ryabkov.
"Yesterday, a note of protest was handed over to the American ambassador, noting that what is happening has put relations on the verge of breaking off," Ryabkov said in Moscow, according to the Interfax news agency.
To maintain talks between Moscow and Washington, the US needed to stop supplying weapons to Ukraine and change its rhetoric, Ryabkov said. "They must stop issuing threats against Russia," he said.
In response to President Joe Biden's criticism of Kremlin leader Vladimir Putin, the Russian Foreign Ministry had handed a note of protest to US Ambassador to Moscow John Sullivan on Monday. Biden had called Putin a "war criminal," a "murderous dictator," and a "thug."
UPDATE, March 22, 5:30 AM EST: Call for calm in towns around Kyiv after evacuation call
Officials in the city of Boryspil, south-east of Kyiv, are trying to calm the population amid alarm about a possible impending attack by Russian forces pursuing their offensive on the Ukrainian capital.
Mayor Volodymyr Borissenko called overnight for people to leave the city. He said that, if women and children left, it would be easier for men to protect the city.
"Panic has broken out on social media that tomorrow an attack will begin and tomorrow Boryspil will be destroyed," Ukraine's UNIAN news agency quoted the interior minister's adviser, Vadym Denisenko, as saying on Ukrainian television early on Tuesday.
According to Denisenko, there is now panic not only in Boryspil – a city of 60,000 people just under 20 miles south-east of Kyiv – but also in the surrounding villages and the region around the capital.
Cover photo: IMAGO/Insidefoto