"My family was hurting me": Britney Spears gets candid ahead of the new year
Los Angeles, California – Britney Spears is setting some intentions for the new year ahead, and opened up about her "awful" past in a new Instagram post.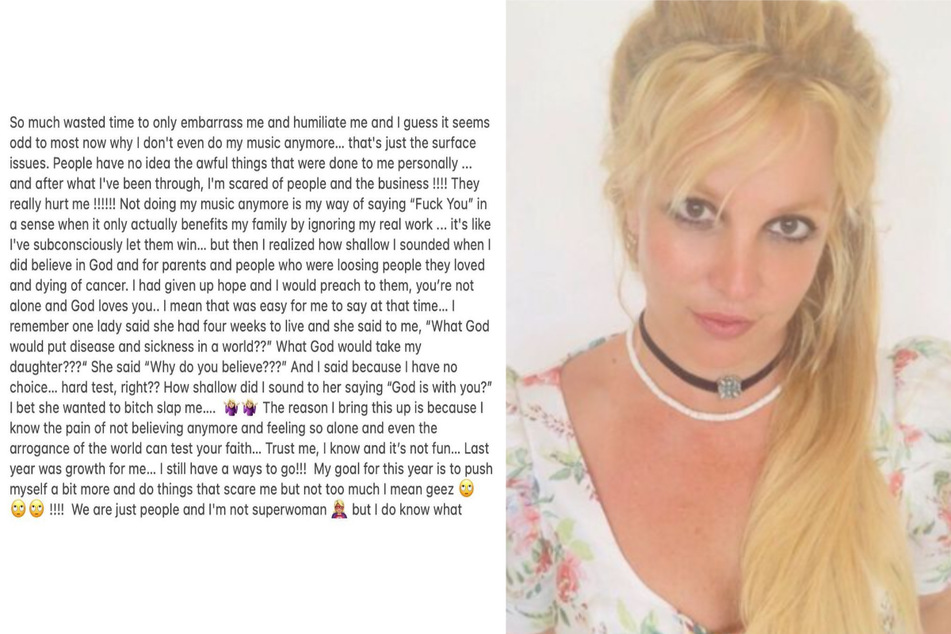 The pop princess is continuing to peel back the layers of her harrowing 13-year conservatorship on social media.
The arrangement allowed her father Jamie to control her finances and personal decisions, and was officially terminated in court last month.
"People have no idea the awful things that were done to me personally, and after what I've been through, I'm scared of people and the business," she wrote on Monday night.
The new post featured a slideshow with her own candid musings and highlighted that prayer is what has gotten her through.
"I had an experience three years ago where I stopped believing in God," Britney wrote. "From every angle I was being hurt for no reason and my family was hurting me. I went into a state of shock and the way I coped was being [in] fake denial. It was too much to really face."
She said she chose "fake denial" in order to avoid "conflict" with those closest to her.
"Honestly my family embarrassed me and hurt me deeply," Britney continued. "Not doing my music anymore is my way of saying, 'F**k you.'"
The star again reiterated that performing under the confines of her conservatorship "only benefits" her family. She also detailed that she was restricted from performing new songs as she wanted to, and that she felt humiliated.
Britney finished by offering up some self-reflection ahead of the new year.
"I'm not perfect ... I'm extremely insecure and I probably care too much."
"Last year was growth for me. I still have a ways to go!!!" the 40-year-old added. "My goal this year is to push myself a bit more and do things that scare me ... We are just people and I'm not superwoman, but I do know what makes me happy and brings me joy and I try to meditate on those places and thoughts that enable me to experience it."
As 2021 was landmark year for Britney and her newfound freedom, it looks like she has even more to look forward to in 2022.
Cover photo: Collage: Screenshot/Instagram/britneyspears