Dueling exes: Kim Kardashian comes for Ye after new outburst
Los Angeles, California – Dealing with a former flame is seldom a fun experience, especially if you're Kim Kardashian and your ex is Kanye "Ye" West.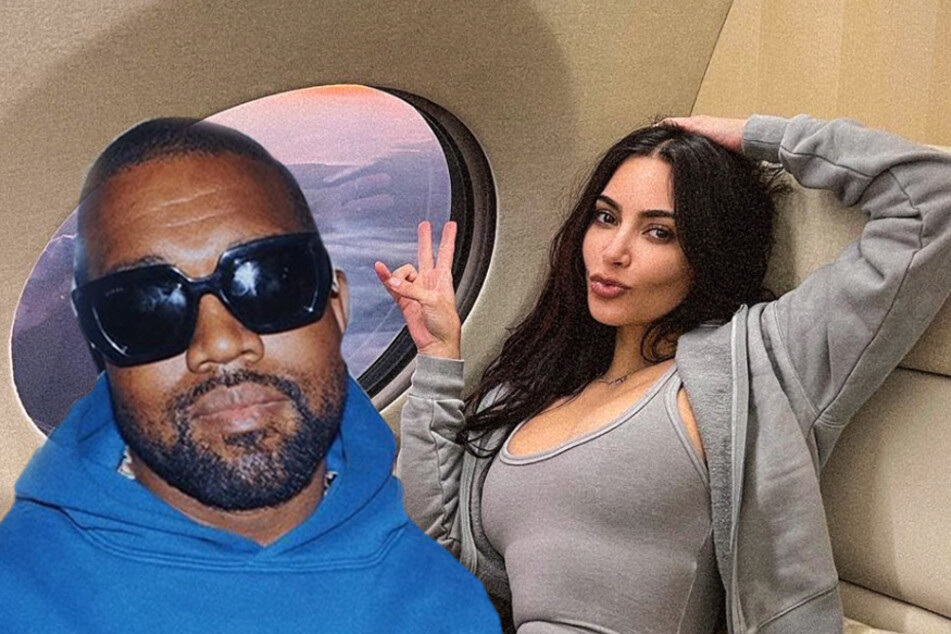 There's only one word that truly encapsulates the ongoing divorce drama between Ye and Kim, and it's "yikes."
On Friday, the 44-year-old decided it was time to use his own Instagram to air out grievances with his ex-wife instead of a publication.
In what feels like Ye's version of "asking for a friend," the DONDA rapper posted a screenshot of his daughter, North West, from her shared TikTok account with quite the shady caption.
"Since this is my first divorce, I need to know what I should do about my daughter being put on TikTok against my will," Ye wrote in all caps.
While Kim (41) has kept mum about their estranged relationship and Ye's countless outbursts directed her way, it seems she's hit her breaking point.
Several hours after Ye's initial post, Kim took to her IG story to let some truths fly, and she did not hold back.
"Kanye's constant attacks on me in interviews and on social media is actually more hurtful than any TikTok North might create," Kim wrote. "As the parent who is the main provider and caregiver for our children, I am doing my best to protect our daughter while also allowing her to express her creativity in the medium that she wishes with adult supervision – because it brings her happiness."
The SKIMS co-founder went on to say that her ongoing divorce with Ye is "difficult enough on our children and Kanye's obsession with trying to control and manipulate our situation so negatively and publicly is only causing further pain for all."
Ye doubles down in a major way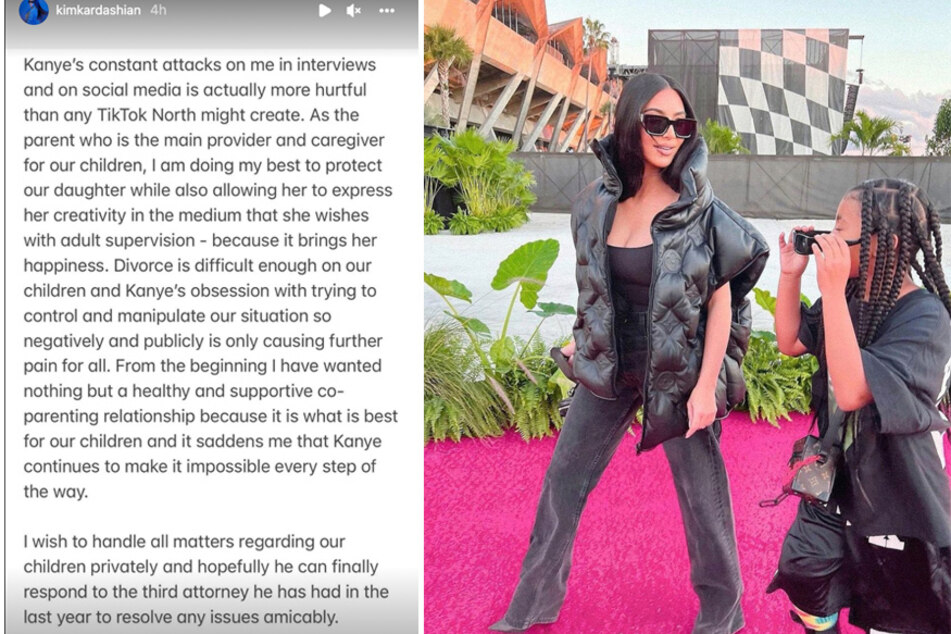 Despite Kim's wish that they handle their issues privately, Ye couldn't help himself from further airing out their dirty laundry publicly.
Once again using the powerful platform of Instagram, Ye posted a screenshot of Kim's lengthy story with quite the explicit caption.
"What do you mean by main provider? America saw you try to kid nap my daughter on her birthday by not providing the address. You put security on me inside of the house to play with my son, then accused me of stealing. I had to take a drug test after Chicago's party 'cause you accused me of being on drugs," he wrote.
The unhinged mayhem didn't end there, either, as Ye proceeded to post TikTok's user agreement to his feed, which states that all users must pass through an "age gate" to prove they're above the age of 13.
If someone is found to be under 13, TikTok will place the user into its "Younger Users experience", which provides additional safety regulations and privacy protections.
Given that North is eight years old, it's likely that her TikTok account falls under this category, and has probably been marked as such by the platform.
Kim has yet to respond in a public manner to Ye's third outburst of the day.
But if she meant what she said about handling things privately, she likely won't. At least, not for now.
Cover photo: Collage: screenshot/instagram/kimkardashian