Harry Styles shows off wild tongue tricks on guitar at Love on Tour Barcelona
Barcelona, Spain - Harry Styles is making his last few Love on Tour shows memorable, to say the least, as he flaunts some wild guitar tricks in Barcelona.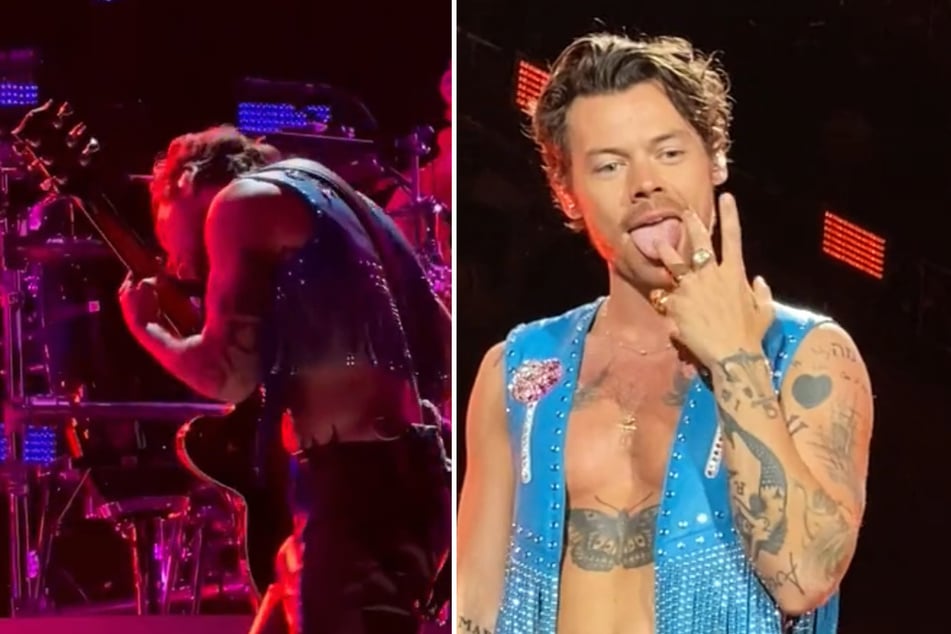 The 29-year-old took the stage at Estadi Olímpic Lluís Companys in Barcelona, Spain, on Wednesday, and it was quite the show indeed!
Styles performed his usual hits, including Adore You, Late Night Talking, and Cinema, while adding a few special fan favorites.
He also sang two One Direction songs, Stockholm Syndrome and What Makes You Beautiful, with the latter featuring the snippet of Best Song Ever.
Things got pretty wild when the Grammy winner performed Medicine, an unreleased track he has performed every so often throughout Love on Tour.
But perhaps the craziest moment was when Styles displayed some crazy guitar tricks.
In one fan-captured video, he's seen playing - or at least mimicking it - the guitar with his tongue.
"who allowed this to happen actually...." the fan wrote.
Another concertgoer got a video of Styles making some serious eye contact with fans during his suggestive performance of Medicine.
"if he looked at me while doing this i would have fainted," one fan commented.
"THE STARE??? IS THE PERSON IN QUESTION ALIVE??" another said.H
Styles will next head to Madrid next for a performance on Saturday at Nuevo Espacio Madcool.
Cover photo: Collage: Screenshot/Twitter/turningredlwt & Screenshot/TikTok/@anaaagonzal0