Amber Heard says Johnny Depp "whacked her in the face" after Met Gala
Fairfax, Virginia - Amber Heard described multiple incidents in which ex-husband Johnny Depp allegedly turned physically violent toward her as she continued her testimony on Thursday in their explosive defamation trial.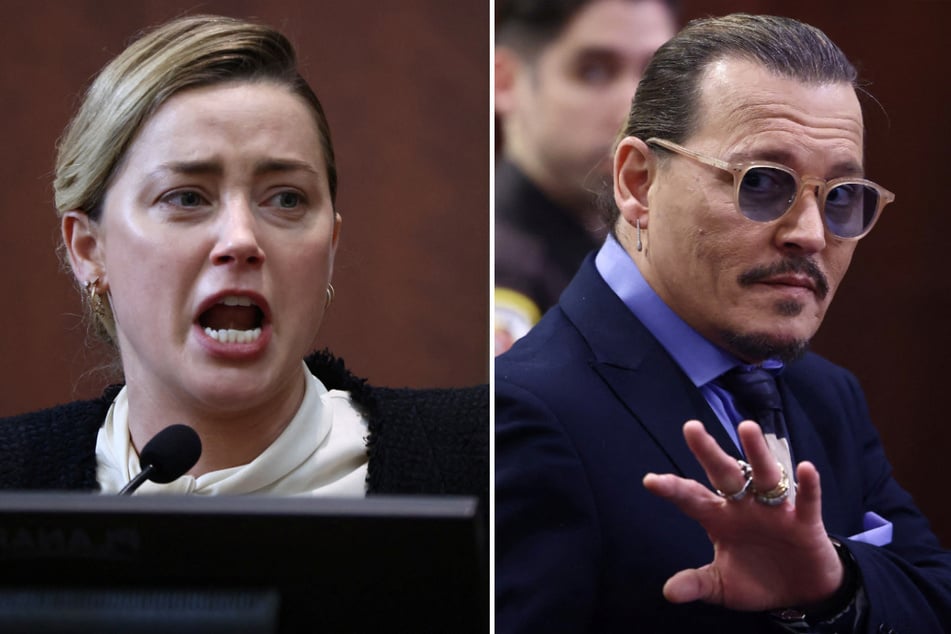 The actor claimed that Depp struck her in the face after accusing her of flirting with a woman at the 2014 Met Gala in New York City.
"We get back to the hotel room, and Johnny shoves me and kind of grabs me by the collarbone area. ... I think at that point, while we were still in the living room, I shoved him back, but I don't really recall too many specifics," Heard told the seven-member jury at the Fairfax County Circuit Court in Virginia on Thursday.
"I remember he threw a bottle at me. It missed me but it broke the chandelier. ... At some point, Johnny and I are in a struggle in the living room, and he kind of, like, shoves me down on the sofa," Heard claimed.
"At some point, he just whacks me in the face. I think that was the first time that I was like, 'Is this a broken nose?'"
She also showed multiple photos to the court, saying, "This is my face some time after Johnny beat me up."
Heard claimed another 2014 incident occurred aboard a flight from Boston to Los Angeles, saying Depp became upset after she told him she had a romantic scene with actor James Franco in the movie The Adderall Diaries.
"I already know that he's drunk," Heard said. "I already know he's using. He reeks of weed and alcohol."
She continued of Depp, "He was saying really disgusting things about my body, about how I liked it, how I responded. Then he started straight up taunting me. 'I know you liked it.' He called me a go-getter. He called me a sl*t."
Heard claimed Depp slapped her in the face before kicking her in the back, which she says forced her to the floor.
"You could hear a pin drop on that plane," Heard said. "You could feel the tension, but no one did anything. I just remember feeling so embarrassed. Felt so embarrassed that he could kick me to the ground in front of people, and more embarrassing, I didn't know what to do about it."
Heard says she thought Depp "had finally hit rock bottom"
Depp said he never hit Heard during his testimony last month, and denied blacking out during that flight from Boston to LA.
She testified that her career was often a point of contention during her relationship with Depp, whom she was married to from 2015 to 2017.
"It became a real fight," Heard said. "Every time I got a script, it was (about) how I was dressing, what kind of behavior I'd have, did I have a sex scene? And then I started saying, 'No, I won't take the sex scenes.' Or, 'I'll take the part where I don't play that kind of character.'
"Then I started minimizing the kinds of kissing scenes that I had, and eventually I had to change the wardrobe that I could have in the movie. ... Eventually I found myself pushing as many scripts off my desk as I could," Heard said.
Heard claimed Depp's struggle with sobriety caused issues. She told the courtroom Depp missed multiple days of production for the film Mortdecai and once was carried home by his assistants.
"I remember thinking, 'This has got to be it. Like, this has got to change. Surely, this is it.' He was understandably very, very sick for at least two days, is my recollection," Heard said. "And in that two days, I had a lot of conversations with his team.
"I felt, at the juncture, very encouraged that everybody and myself were on the same page. I felt encouraged that we were in a new chapter, that Johnny had finally hit rock bottom, and finally he felt like changing for good."
Heard's testimony began Wednesday, with the Pineapple Express actor describing the first time Depp allegedly hit her. She claimed the Sweeney Todd star slapped her three times after telling her a tattoo on his arm read "Wino."
The 58-year-old is suing Heard for $50 million over a 2018 op-ed published by the Washington Post, in which the 36-year-old called herself "a public figure representing domestic abuse." The op-ed didn't name Depp, but Heard had accused the actor of abuse more than two years earlier.
The trial began nearly four weeks ago, with Depp testifying for four days. He accused Heard of often being violent toward him, saying he suffered a severed finger in 2015 when she allegedly threw a vodka bottle at him.
Cover photo: Collage: REUTERS