Eurovision Song Contest: "Glory to Ukraine" as Zelensky vows to host next year
Turin, Italy - Ukraine won the Eurovision Song Contest (ESC) in Turin, Italy on Saturday ahead of 24 other acts from across Europe. The Ukrainian entry Stefania, by the band Kalush Orchestra, had been heavily favored to win.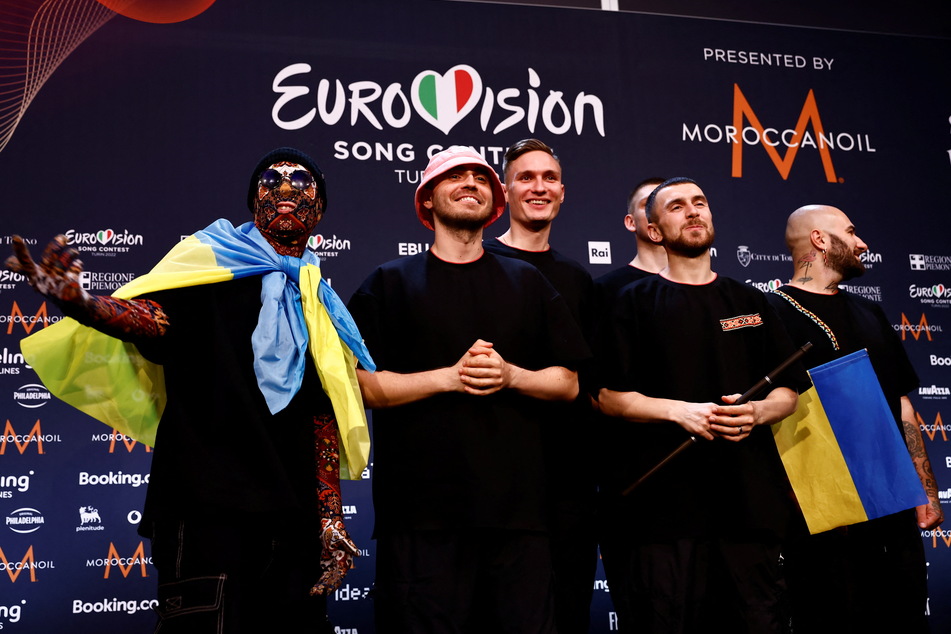 Originally a tribute to the band frontman's mother, Stefania has morphed into a tribute to the resilience of the Ukrainian people in face of the ongoing Russian invasion that has devastated the country since February.
The conflict overshadowed this year's event, with covert and overt displays of solidarity with Ukraine despite rules that officially disallow political statements. Russia and Belarus did not take part in the ESC this year, having been disqualified by the European Broadcasting Union (EBU) over Russia's invasion of Ukraine.
Following their performance, Kalush Orchestra issued an appeal for the Ukrainian port city of Mariupol and the Azov steelworks, which are besieged by Russian troops, to be saved.
While some feared that Kalush Orchestra could be disqualified, the EBU told dpa: "We understand the deep feelings around Ukraine at this moment and believe the comments of the Kalush Orchestra and other artists expressing support for the Ukrainian people to be humanitarian rather than political in nature."
After the win, Ukrainian President Volodymyr Zelensky vowed that Ukraine will host the ESC in 2023.
"Our courage impresses the world, our music conquers Europe! Next year Ukraine hosts Eurovision! For the third time in our history," Zelensky said on Telegram early Sunday. "Glory to Ukraine!"
Whether Ukraine can really host the contest next year is unclear. Currently, Ukraine would be unable to host such a competition because of martial law in the country. This means that no major events are permitted, and nightly curfews apply. An end to the armed conflict with Russia is not in sight.
Eurovision delivers a final to remember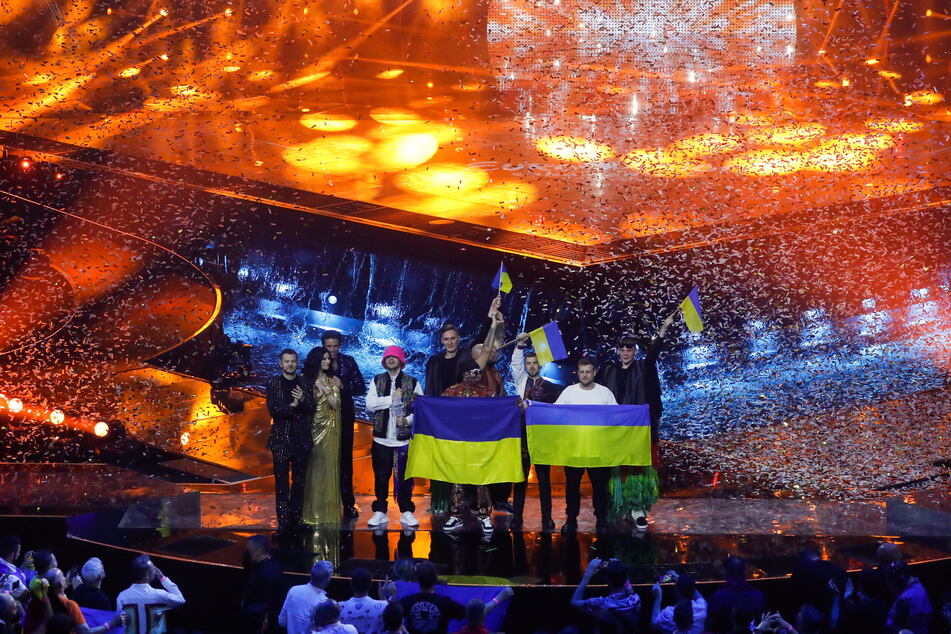 The evening event opened with 1,000 musicians performing the John Lennon classic Give Peace a Chance on a piazza in Turin's city center, as some 7,000 viewers in the ESC hall sang along as they watched.
Capping off a week of events including two semi-finals, the ESC grand final was hosted by Italian television presenter Alessandro Cattelan, Italian singer Laura Pausini, and Lebanese-British singer Mika. It was also streamed live on Peacock.
The popular Ukrainian act received 12 points from audiences in almost all participating countries for a total of 631 points, well ahead of second-place British singer Sam Ryder, who received 466 points for his entry, Space Man.
Points are awarded by national juries and voting by viewers. The show's rules prevent voters from supporting their own country's entry. Countries advanced to the grand final after two semi-finals.
The EBU cited "irregularities" in the voting in Thursday's second semi-final, which did not affect the final result.
Irregularities in the jury vote were found in six countries, the EBU said in a statement, without naming the countries potentially involved. They added that an average value was calculated for the affected countries from the points of other countries that had voted similarly. Details were not given.
Artists from 25 countries took part in this year's grand final, from a total of 40 participating countries.
According to some observers and ESC connoisseurs, this year's lineup of country, pop, techno, and rock songs – as well as ballads – was one of the strongest in recent years with professional performances and strong singing voices.
Ukraine has already won Eurovision twice: in 2004 with Wild Dances by Ruslana, and in 2016 with the song 1944 by Jamala, a mournful lament about the horrors of conflict.
Cover photo: REUTERS