Uvalde school shooting video shows shocking police response in gut-wrenching detail
Uvalde, Texas - A new video of the Robb Elementary school shooting in Uvalde has emerged, showing police waiting outside a classroom for more than an hour as the shooter kills students inside.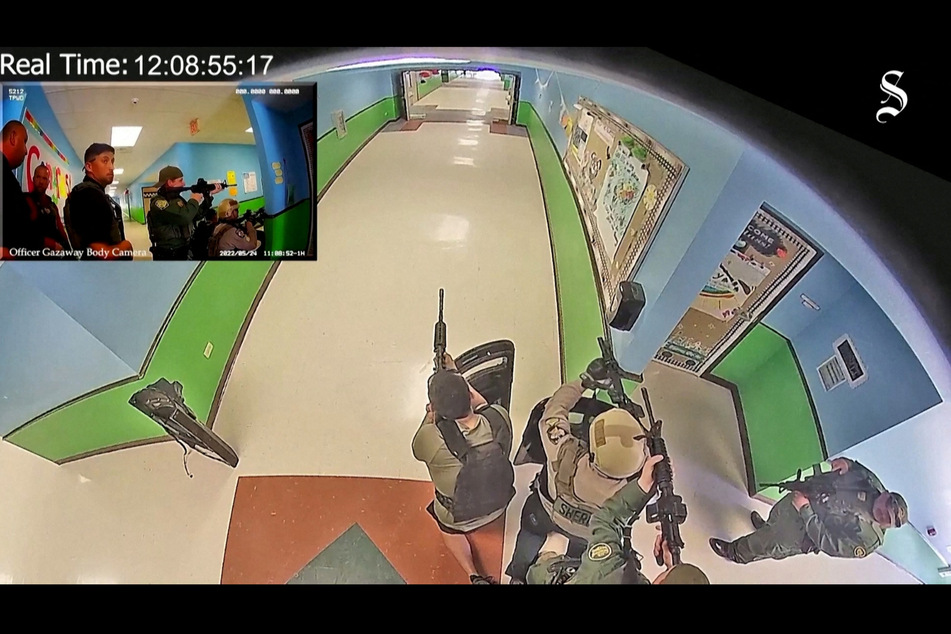 Uvalde police have faced backlash over their delayed response to the deadly school shooting that left 19 children and two adults dead in the Texas town. That will only get worse in light of the newly released footage.
The 77-minute video, published Tuesday by the Austin American-Statesman and KVUE-TV, shows the wait in agonizing detail.
With the sounds of children screaming edited out, it shows the 18-year-old shooter walking through the school hallways with an assault rifle and then opening fire on a classroom.
Just minutes later, law enforcement officers arrive in the hallway. They are wearing body armor and helmets and carrying their own firearms, but after another barrage of gunfire, the officers back down from the classroom.
As time passes, the officers can be seen using their phones – one of which has a Punisher lock screen – and looking at floor plans. Even after another round of shots rang out 45 minutes later, they still do not rush the classroom, despite the arrival of a tactical unit with ballistics shields.
An hour and 14 minutes after first showing up at the scene, the officers finally go in and stop the shooter.
Uvalde mayor slams media over video release
The Uvalde mayor and other officials expressed anger that the video was released to the public before victims' families had a chance to see it.
"The way that video was released today was the most chicken thing I've ever seen," Mayor Don McLaughlin said at a city council meeting.
Council Member Ernest "Chip" King kicked things up a notch when he said, "The mayor says chicken; it was chickens***."
Several members of the audience seemed to disagree with the mayor's focus on the media and redirected attention to the officers' behavior: "What about the cops? Are they chickens***?" one person asked.
KVUE-TV also directly contradicted the mayor's claims that families didn't have a say in the release of the footage. "We spoke to some of the families of the victims in Uvalde before the video was published and explained what we saw and heard in the video. All but one told us they wanted this video released. Their only request was that the screams of children in the classroom be removed," it said.
Cover photo: REUTERS