College basketball: Purdue steals Houston's crown as the nation's best
West Lafayette, Indiana - The Big Ten is back on top of the college basketball leaderboard as the Purdue Boilermakers have reclaimed their ranking in the nation's top spot.
After the former No. 1 Houston suffered an ugly at home loss to Temple on Sunday, the Cougars have since been dethroned as the nation's best by Purdue.
The Boilermakers put up a stunning week of wins that included the thrilling 64-63 win over Michigan State last Monday, a 61-39 blowout against Minnesota on Thursday, and a 58-55 home victory against Maryland on Sunday – making them the easy favorites in college hoops this week.
The Boilermakers stand as the only Midwest team ranked in this week's AP Top 25 poll and hold a commanding lead in the Big Ten with an 8-1 conference record - having only lost to Rutgers.
Despite their disappointment, the Houston Cougars were still able to secure a top three ranking in this week's Poll landing at No. 3 - also securing the top spot in the Big 12 conference standings.
Where does Kansas rank in this week's college basketball standings?
Following their huge upset victory of in-state rival Kansas last week, Kansas State also moved into the top five rankings, while TCU climbed up three spots from No. 14 to No. 9.
The reigning national champions the Jayhawks, however, weren't so lucky – getting bumped out of the top five rankings down to the No. 9 spot.
Alabama Crimson tide take over as college basketball's No. 2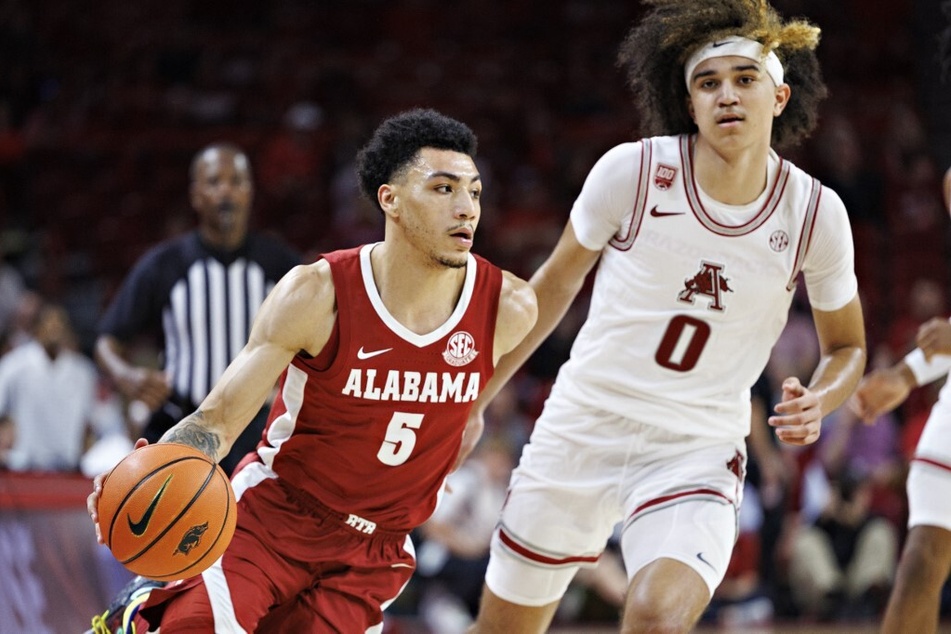 Stealing the No. 2 spot from Kansas this week, after the Jayhawks suffered two-straight upsets by in-state rival Kansas State and TCU, are the polished Crimson Tide. This marks the Tide's highest ranking since 2003.
Steadily climbing since being ranked No. 20 in the preseason's AP Top 25, it's safe to say Alabama may not be just a football school!
Albama Basketball's head coach Nate Oats led his perfect 7-0 conference record team to glory with stunning court performances last week against Missouri and Vanderbilt - notably after former forward Darius Miles was recently dismissed from the program after his arrest on murder charges for a fatal shooting near campus.
The team has been led with confidence this season by outstanding freshman Brandon Miller.
If the Crimson Tide continue to dominate, they can make college basketball history and earn a trip to the Final Four March Madness tournament for the first time ever.
The Cougars' next game will take place on Wednesday against UCF at 7 PM EST, and the Crimson Tide will play Mississippi State at 9PM EST.
Cover photo: Rey Del Rio / GETTY IMAGES NORTH AMERICA / Getty Images via AFP