History-makers and shakers bring home glory from the Winter Olympics
Beijing, China – As the dust settles on the Beijing Winter Olympics and athletes return to home turf, we're looking at the history-makers and shakers who brought back glory and lots of firsts for Team USA.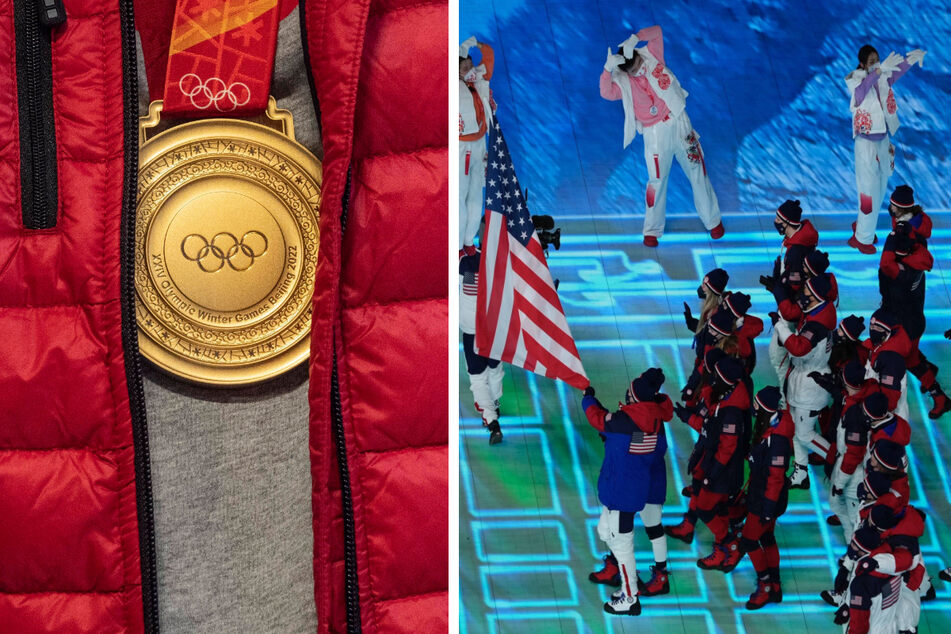 The Beijing Winter Olympics came to a close on Sunday after 17 jam-packed days of sport and scandal.
Team USA was represented by 225 competitors out of 2,900 total athletes across 91 nations. The US captured 25 medals in Beijing – eight gold, 10 silver, 7 bronze – and ranked fifth in the overall medal count. 17 of those were earned by women, more than by any other competing nation.
The events were clouded by coronavirus restrictions, boycotts over China's human rights atrocities, and a figure skating doping fiasco that tainted the Games. Yet several star athletes from Team USA broke barriers and shined for much more than just their medal-worthy performances.
Here are the Americans that rocked this year's Winter Games, and opened doors for more Olympic history to come.
The most decorated Black athlete in Winter Olympics history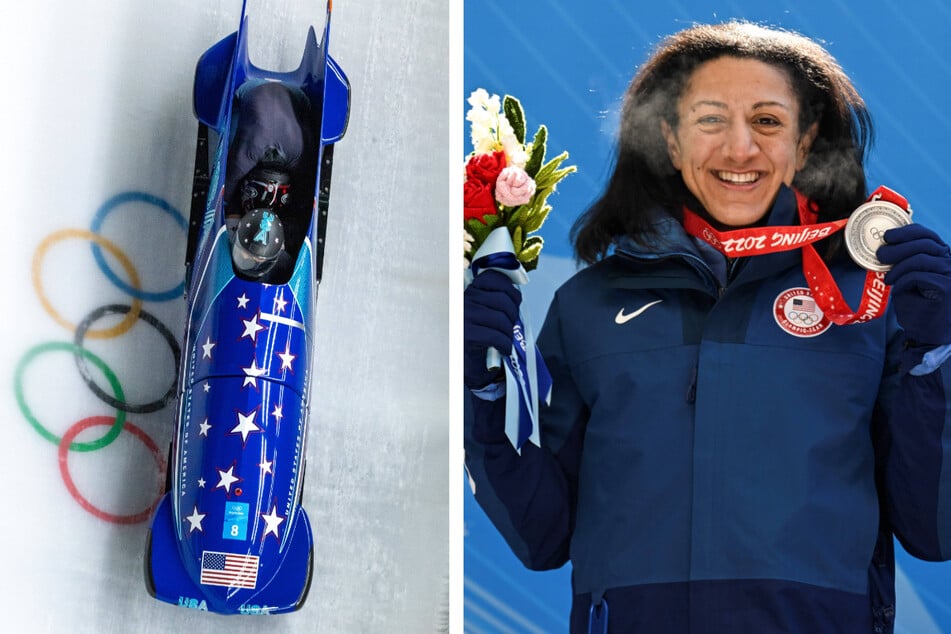 Bobsledder Elana Meyers Taylor became the most decorated Black athlete in Winter Olympics history with her silver medal in the monobob and bronze medal in the two-woman bobsleigh in Beijing. She also has two silver medals and one bronze from three previous Olympics.
"It's so crazy to hear that stat and to know that I'm part of a legacy that's bigger than me," she said. "Hopefully it just encourages more and more Black athletes to come out to winter sports.

"We want everybody to come out, regardless of the color of your skin," she added. "We want winter sports to be for everybody, regardless of race, regardless of socio-economic class. I think the more diversity we have, the stronger our sport can be."
The first openly non-binary Winter Olympian
Timothy LeDuc became the first openly non-binary athlete to compete at a Winter Games when they competed in the figure skating pairs event in Beijing. The two-time national champion and Iowa native finished in eighth place.
Shortly after the 31-year-old and their partner Ashley Cain-Gribble took the ice, Google Trends reported a spike in searches for "What is non-binary" and "What is a non-binary person."
They joined several openly non-binary and transgender Olympians who competed at last year's Tokyo Games.
36 publically out LGBTQ+ athletes competed in Beijing, which is double the amount of the last Winter Olympics, as tracked by Outsports. The last Beijing Games, 2008's Summer Olympics, saw only 15 openly LGBTQ+ athletes – as opposed to a record 142 in 2021.
LeDuc hopes his visibility will open doors for others to "be able to celebrate what makes them different."
"We are one of many, laying the ground for more people to come," they said. "I know for me to be openly non-binary is only possible because amazing, great people before me had laid the groundwork for me."
Team USA's oldest Olympians capture gold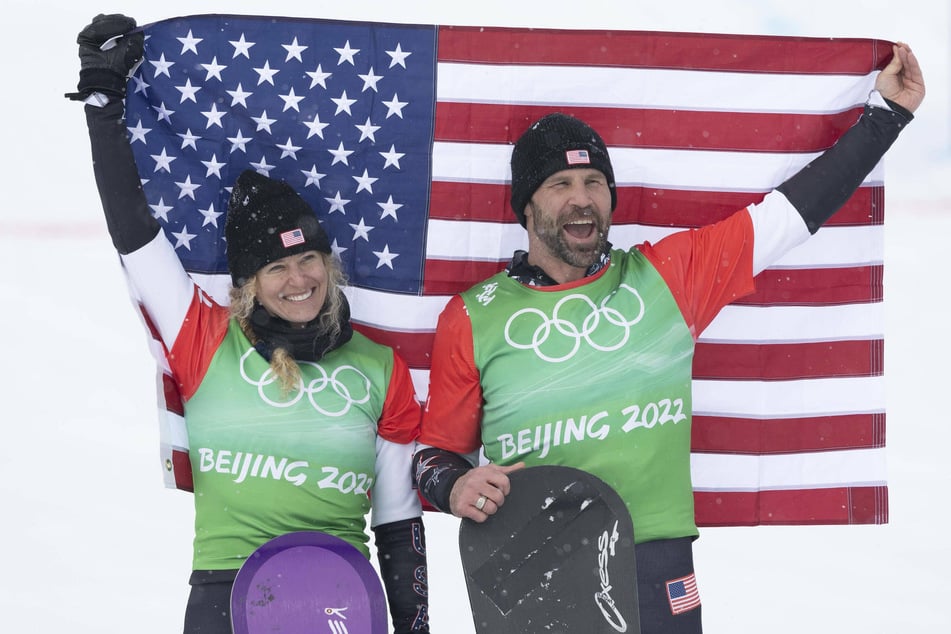 Team USA had some legendary moments in snowboarding these Games, including the first ever back-to-back halfpipe win for a woman by Chloe Kim and boarding icon Shaun White's final Olympics showing.
Veteran snowboarders Lindsey Jacobellis and Nick Baumgartner joined them as true record-setters when they brought home gold from Beijing in the inaugural Olympic mixed team snowboard cross event.
At age 40, Baumgartner was the oldest American athlete at the Beijing Games and has become the oldest American snowboarder in Olympic history. At 36, Jacobellis similarly became the oldest American woman to ever win a Winter Olympics gold.
Baumgartner came back from an emotional low of not qualifying for his men's individual final, fighting disappointment that he would go home empty-handed in his fourth Olympics stint.
Two days later, his last race was a crowning career moment.
"I can only hope that it inspire so many people to take control of their life," Baumgartner said in an interview after his win. "Put in that work. Fight through every bit of adversity. Because you never know what could happen.
"40-years-old with a gold medal? Are you kidding me? I would have never been able to think of that script. It's unbelievable," he added.
The first Black woman to medal in Olympic speedskating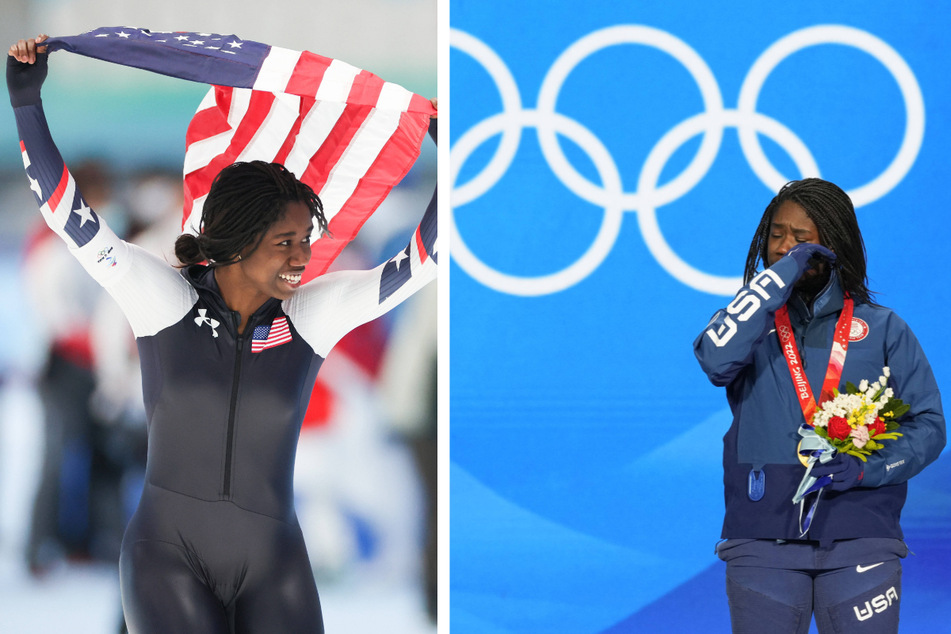 Erin Jackson became the first Black woman ever to medal in Olympic speedskating, winning the women's 500-meter race in Beijing and bringing gold back to her hometown of Ocala, Florida.
The win also marked the first individual speedskating hardware for the US since 2010.
Perhaps even more important than her accomplishment, the 29-year-old said she hoped it would inspire women of color to come up in the sport.
"I just hope it sparks something," Jackson told NBC's Today, "Like maybe a young Black girl saw my race or something and she's like, 'Oh, well, maybe I should try this.' I think that would be amazing."
The new gold medalist has received an outpouring of congratulations from across the country, including a special message from famed hosts Oprah Winfrey and Gayle King.
"I never even learned how to get the ice skates on," Oprah joked. "What you do is so above and beyond expectations. What a winner. We're so proud of you."
The first Asian American man to grab singles figure skating gold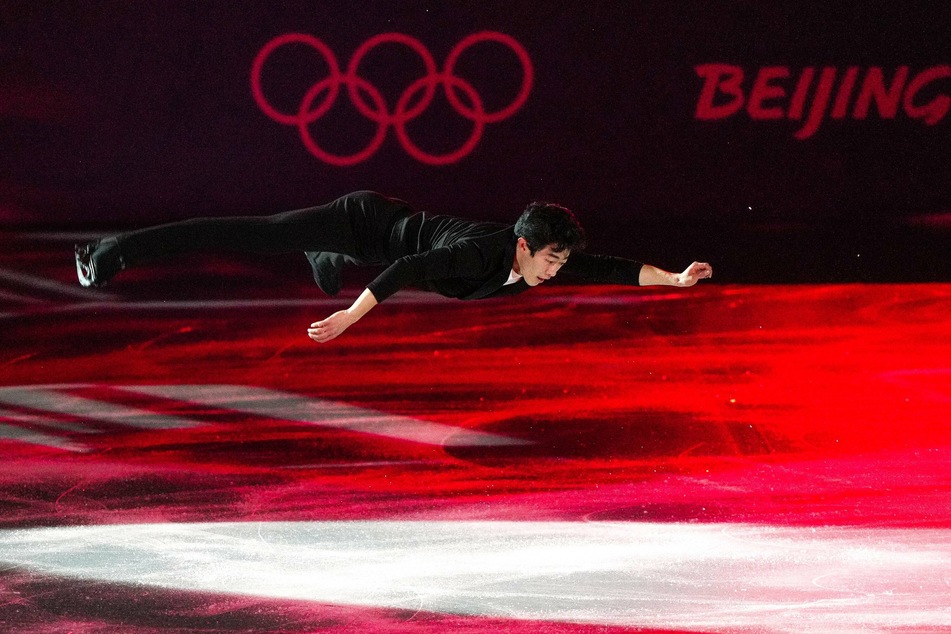 Figure skater Nathan Chen made history in Beijing as he became the first Asian American man to earn an Olympic medal in men's individual figure skating.
The win is especially significant due to a history of gatekeeping of sports for Asian Americans.
"Like all Americans, Asian Americans love sports, but certainly there was social segregation," historian Ellen Wu explained of why Chen's gold was so important. "There is a history of Asian Americans forming their own sports leagues in basketball, tennis, and bowling."
22-year-old Chen is the son of Chinese immigrants. On an appearance on the Today show on Tuesday, Chen placed his gold medal around his mother's neck in their first reunion since his Olympic win.
He said the gold largely belonged to his mother.
With change-makers abounding, the US certainly has a lot to be proud of after these Olympic Games.
Cover photo: Collage: IMAGO/Eibner Europa & AFLOSPORT