Ukraine war: Kyiv detains close Putin ally, escape routes blocked as Biden claims "genocide"
Kyiv, Ukraine - The Ukrainian intelligence service SBU has detained Viktor Medvedchuk, a pro-Russian opposition leader and close Putin ally, while no escape routes to help Ukrainians flee to safety are planned for Wednesday.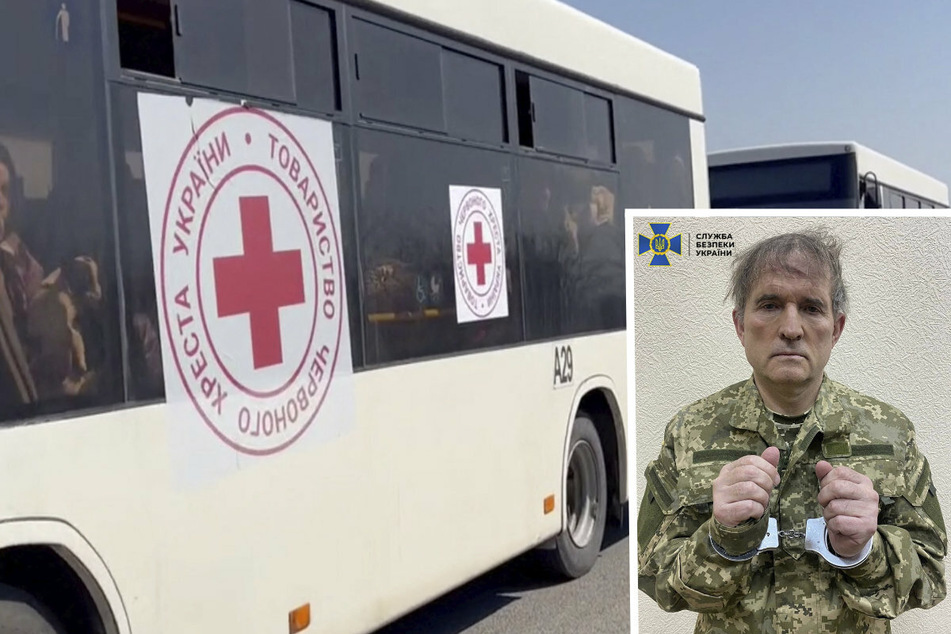 Russian troops have blocked evacuation buses in the Zaporizhzhia region on Wednesday, Ukrainian Deputy Prime Minister Iryna Vereshchuk wrote on Telegram. She also said the ceasefire was not being observed in the Luhansk region and that it was too dangerous to set up escape corridors.
Ukrainian officials have been establishing humanitarian escape routes for civilians amid Russia's ongoing attack, enabling thousands of people to flee the bombardment of eastern Ukraine's cities. Vereshchuk said 2,671 people had fled Mariupol, the Zaporizhzhia region and the Luhansk region on Tuesday alone.
Meanwhile, Kyiv confirmed the capture of Medvedchuck on Tuesday. Ukrainian President Volodymyr Zelensky wants to swap Medvedchuk for Ukrainian prisoners of war, he said in his nightly video address.
Medvedchuk disguised himself with a Ukrainian military uniform, so he should be treated accordingly, Zelensky said.
"I propose to the Russian Federation to exchange their boy for our boys and girls in Russian captivity," Zelensky asserted.
The 67-year-old Medvedchuk has been considered a key figure in the conflict between Moscow and Kyiv for years. His connection to Putin sometimes allowed him to act as a mediator.
In May 2021, Medvedchuk was placed under house arrest on charges of high treason, but managed to escape several days before the Russian attack on Ukraine.
Meanwhile, in the US, President Joe Biden has spoken of a "genocide" in Ukraine in connection with alleged abuses by Russian soldiers.
"Yes, I called it 'genocide,'" the president told reporters in Iowa on Tuesday. "It has become clearer and clearer that Putin is just trying to wipe out the idea of even being - being able to be - Ukrainian."
"And the amount - the evidence is mounting. It's different than it was last week," Biden added. He spoke of "literally, the horrible things that the Russians have done in Ukraine."
"And we're going to only learn more and more about the devastation," Biden asserted.
Zelensky claims Ukrainians have been deported to "special camps" in Russia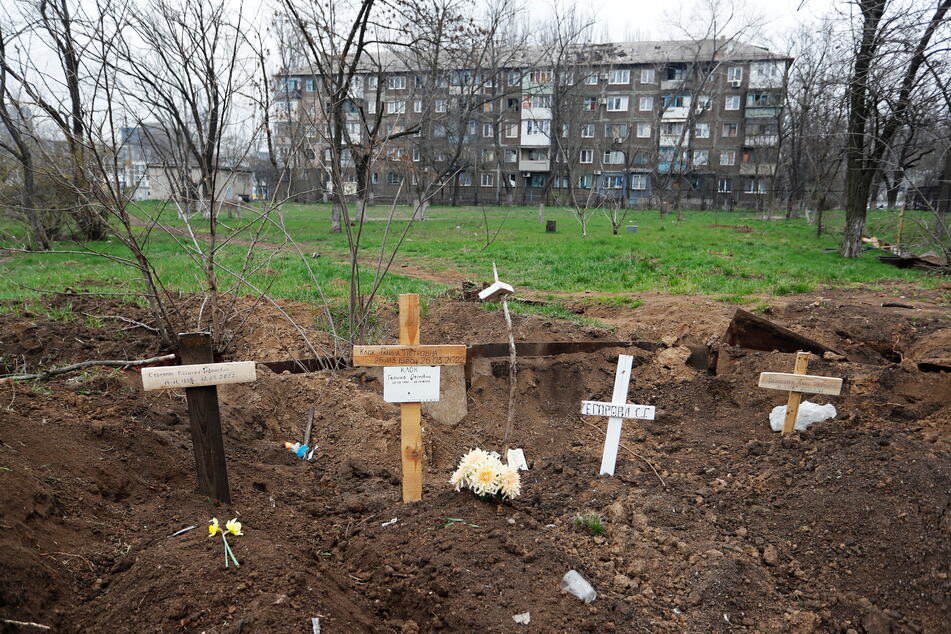 In the Kyiv suburb of Bucha, the number of bodies found after the withdrawal of Russian troops has continued to rise.
"We have 403 dead who were bestially tortured and murdered," Mayor Anatoly Fedorok said on Tuesday, according to local media reports.
According to him, the exhumation of bodies from a second mass grave with 56 dead began that day. At least 16 people are still missing. Putin said the charges were "provocations" and "fake."
Earlier on Tuesday, Zelensky worked to remind his Western allies that their help was needed to ward off Russia's invasion.
Zelensky said part of the problem was that Europe seemed unwilling to put greater pressure on Russia, despite growing evidence of Russian war crimes as its forces retreated toward the country's eastern border in recent weeks.
"Some EU states cannot commit to when they will at least noticeably restrict the purchase of Russian energy sources," Zelensky said during an address to the Lithuanian parliament.
The war in Ukraine raises a strategic question for Europe, he said.
"Are the values that became the basis of Europe after World War II still alive? Or have the values already played their role and can at most still serve as exhibits in museums for tourists?" he said.
Zelensky also accused Russian troops of deporting hundreds of thousands of Ukrainians to Russia to silence them in the face of war crimes committed by Russian soldiers.
"They are taken to special camps. Their documents are taken from them, they are interrogated, humiliated. How many they kill is unknown," he said. While similar accusations have been made, they have not been independently verified.
Fresh cyberattacks and fierce fighting overnight near Mariupol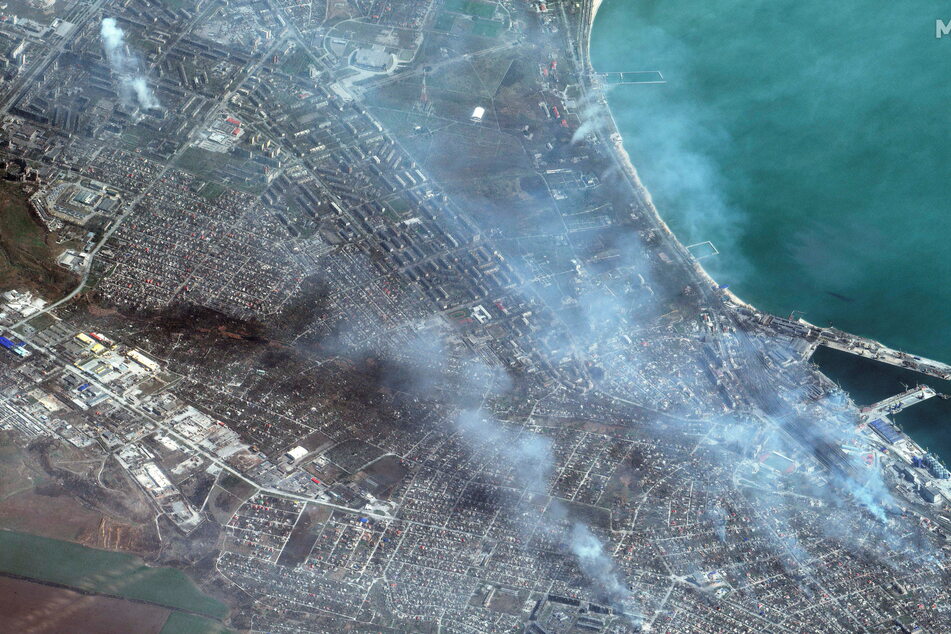 Fighting has continued, on multiple fronts, as fresh charges of Russian cyberattacks have emerged, allegedly targeting Ukraine's electricity infrastructure. The Russian military claimed on Tuesday that it had launched strikes on 32 military targets in Ukraine during the night.
A Buk-M1 anti-aircraft missile system as well as an ammunition depot and an aircraft hangar with Ukrainian air force technology were destroyed, among other targets, the spokesperson for the Russian Defense Ministry, Igor Konashenkov, said.
The authorities also reported fierce nighttime fighting in the Ukrainian port of Mariupol. "The remnants of the Ukrainian armed forces trapped on the territory of the Ilyich plant [iron and steel works] made an unsuccessful attempt to break out of the city," said Konashenkov.
According to him, around 100 Ukrainian soldiers attempted to break out; half of them were killed. This information was initially not independently verifiable.
Russian troops are planning to advance to the administrative borders of Donetsk in eastern Ukrainian in their offensive on the region, Ukrainian and British sources said on Tuesday.
Russia will seek to capture the heavily besieged city of Mariupol as well as Popasna, a small town in the Luhansk region, according to the Ukrainian General Staff. An attack on Kurakhove is to be launched from there, it said.
Moscow is currently completing the deployment of Russian troops to the Russian regions of Belgorod and Voronezh near the border, it said.
Russian attacks remain focused on Ukrainian positions near Donetsk and Luhansk with further fighting likely around Kherson and Mykolaiv and a renewed push towards Kramatorsk.
Cover photo: Collage: REUTERS