Taylor Swift: Storyteller brings Eras magic to Museum of Arts and Design
New York, New York - The newest exhibit at the Museum of Arts and Design in New York City follows the epic career and iconic eras of Taylor Swift, and Swifties won't want to miss it!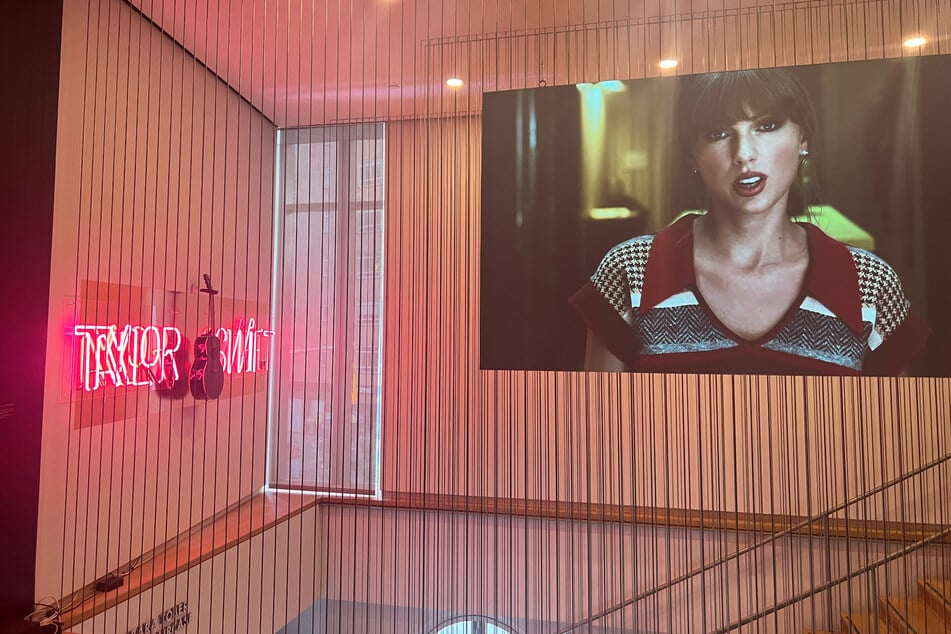 Taylor Swift: Storyteller, which opened to the public on May 20, features a number of memorable outfits worn by the 33-year-old in music videos, live performances, and more.
In a nod to her cycle of reinvention, each of Swift's album eras is represented within the exhibit, which features costumes, jewelry, props, and more from her decades-spanning career.
Upon arriving on the museum's second floor, guests are greeted by Swift's most memorable recent music videos, including Anti-Hero and All Too Well: The Short Film, which play on a loop as fans explore the exhibit's offerings.
The area immediately evokes the magical nostalgia of the Karma singer's songwriting, with two walls featuring handwritten lyrics. The first shows meticulously written verses of the fan-favorite All Too Well, while the second illustrates Swift's growth as an artist with scribbled-out lyrics to her first single, Tim McGraw, which she famously wrote in her high school math class.
Perhaps the most exciting display for Swifties features a notable look from each era. A blue tulle dress and cowboy boots from her debut-era performances kick off a line of ensembles that goes on through to the feather jacket featured in the Lavender Haze music video from Midnights.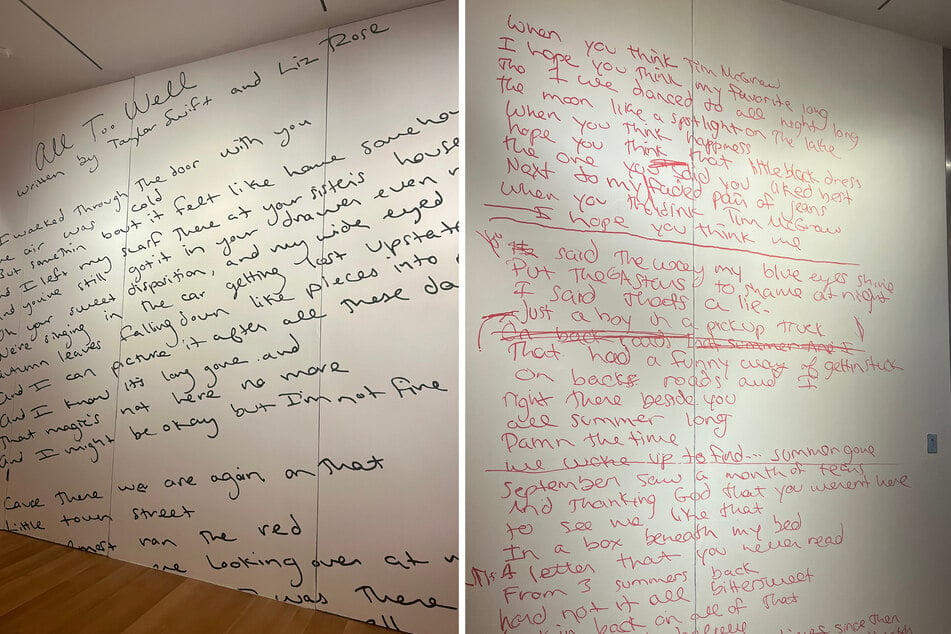 Taylor Swift: Storyteller features ensembles from each album era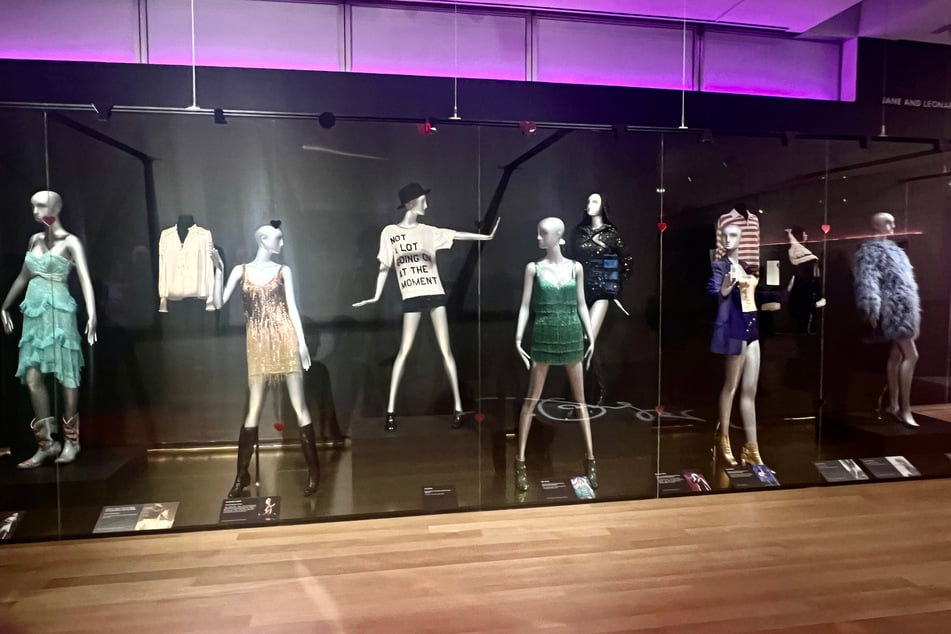 The retrospective look at Swift's career comes at the perfect time, as the Blank Space singer is bringing The Eras Tour to the tri-state area on May 26, 27, and 28.
Fans will notice that a few of the outfits featured in the exhibit - such as the 22 t-shirt and her 1989 World Tour outfit - have both been reinvented as costumes on the ongoing tour.
The museum provides a poignant context for the cyclical reinvention of Swift's artistry in a description inscribed on the central wall.
"In tandem with her extraordinarily imaginative storytelling, Swift has discussed the pressures that women musicians feel to constantly transform their public images," the message reads. "Her shape-shifting - the broad array of characters she plays in her music videos and performances - may also be seen as a commentary on female archetypes and gender norms."
The exhibit is a powerful demonstration of Swift's staying power as an artist, one who fearlessly dives into new genres and styles as no other artist has.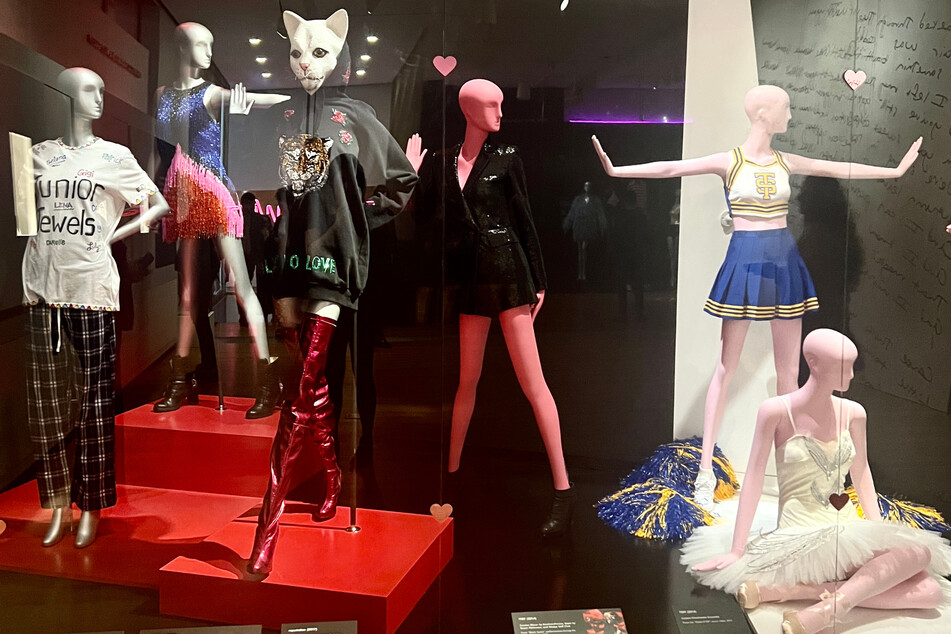 Taylor Swift: Storyteller celebrates the singer's music videos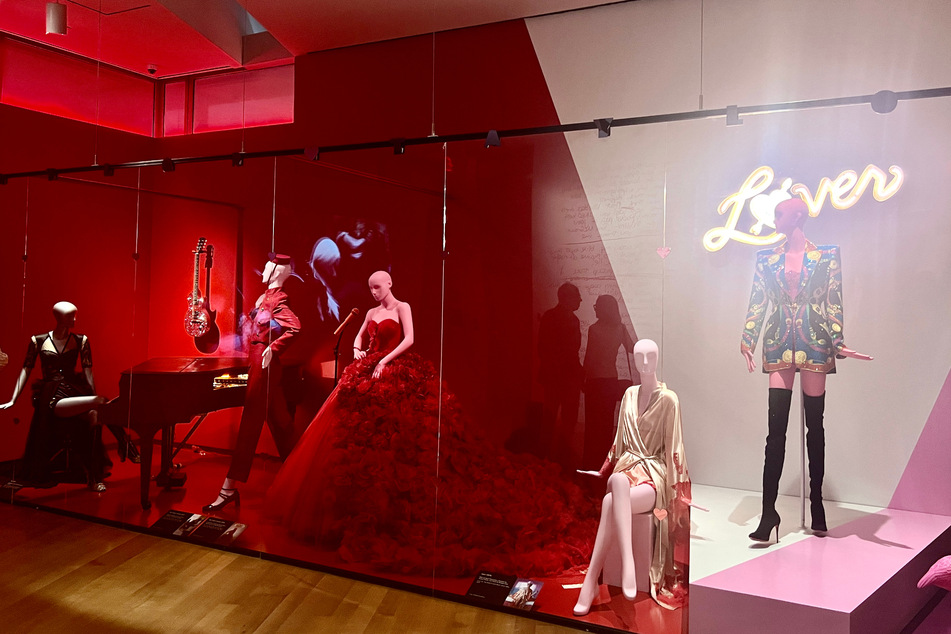 Other outfits on display at Taylor Swift: Storyteller are several instantly-recognizable looks from popular music videos like You Belong With Me, I Bet You Think About Me, You Need to Calm Down, and Shake It Off.
Also on display are a number of props, including a lute from the willow video and gemstones from Bejeweled.
The collection also has a few outfits from Swift's live performances and award show appearances, including the black lace gown she wore for her Red Tour performances of All Too Well and her 2019 VMAs red carpet ensemble.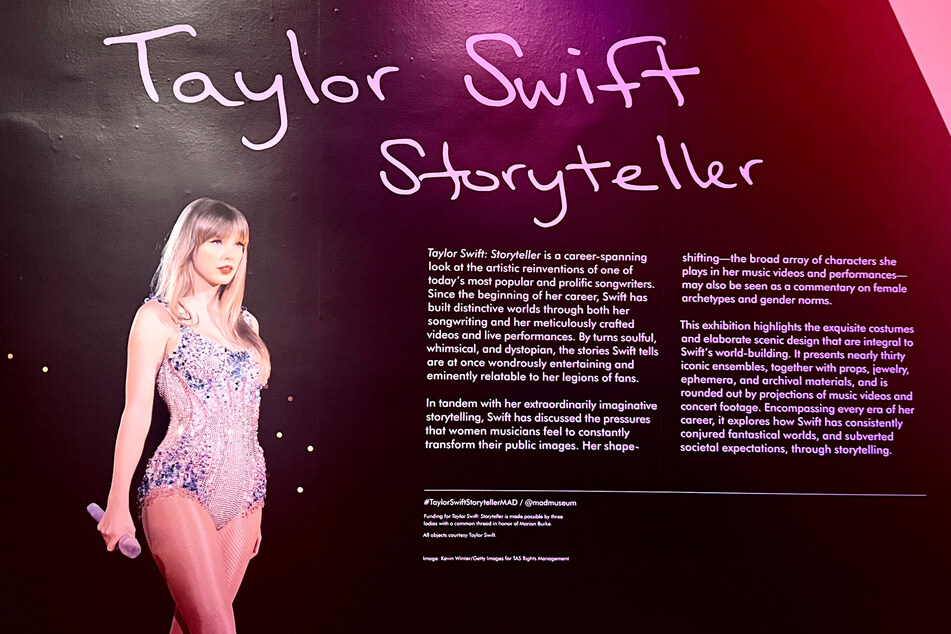 Cover photo: TAG24/Kelly Christ