Donald Trump arraignment: Trump leaves court after being charged with 34 felonies and pleads not guilty
New York, New York - Former President Donald Trump has been arraigned in New York, with new details about the charges he faces stemming from an alleged 2016 hush money scheme and potentially other matters.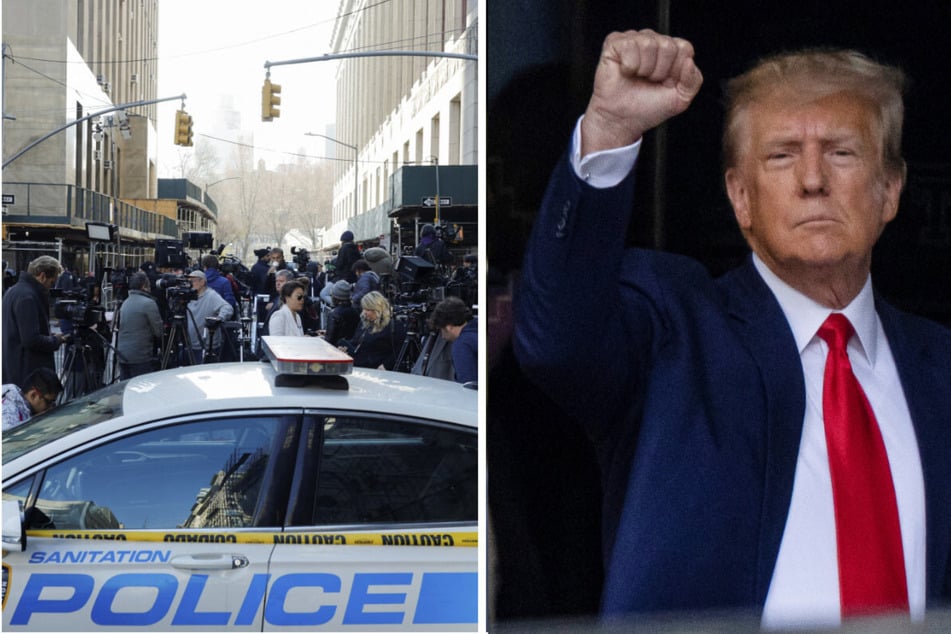 Trump traveled from Florida to New York on Monday with his Secret Service detail and political and legal teams, including newly hired lead counsel Todd Blanche, a top white-collar criminal defense lawyer and former federal prosecutor.

Supporters and protesters greeted the ex-president from behind steel barricades when he arrived at Trump Tower in midtown Manhattan.
Trump was indicted last week by the Manhattan grand jury following an investigation into a $130,000 hush money payment made by his former attorney Michael Cohen to porn star Stormy Daniels shortly before the 2016 election. He has been accused of hiding a reimbursement and other compensation to Cohen by funneling those payments through his business and recording them as legal services.
Follow all the latest developments of a historic day with TAG24 NEWS.
UPDATE, 5:50 PM EDT: Trump has left New York City after his arraignment day
Donald Trump has boarded his private plane at LaGuardia Airport and is headed back to his Florida estate at Mar-a-Lago, closing the chapter on his arraignment day in New York City.
He was charged with 34 felony counts of falsifying business records. Check out TAG24's breakdown on what it all means.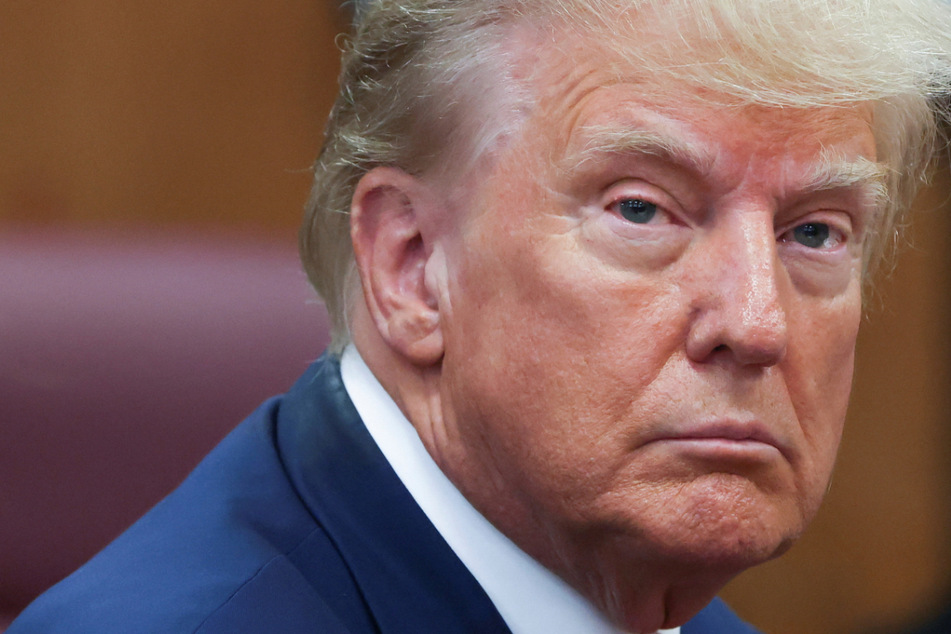 He has officially become the first former US president to face criminal charges. After being arrested, he was fingerprinted, but not handcuffed and didn't have his mug shot taken.
UPDATE, 5:05 PM EDT: The Manhattan DA holds a press conference following the arraignment
Manhattan District Attorney Alvin Bragg held a press conference at the courthouse following Trump's arraignment, as he became the first prosecutor to indict a former president.
"True and accurate business records are important everywhere to be sure. They are all the more important in Manhattan — the financial center of the world," Bragg said.
"Everyone stands equal under the law," he added. "No amount of money and no amount of power changes that enduring principle."
Meanwhile, reports of the proceedings during the arraignment said presiding judge Juan Merchan did not issue a gag order to the former president, but urged him and witnesses in the case to keep from making statements with "the potential to incite violence and civil unrest" afterwards.
Trump's lawyers also attempted to waive Trump's need to appear at the next scheduled hearing in December, saying his appearance comes at a cost to New York.
Merchan denied the request, but he said he would reconsider if the request was made again down the line.
UPDATE, 4:05 PM EDT: A next hearing date has been scheduled
A next in-person hearing date for the case has been set for December 4.
Trump's attorney Todd Blanche said outside the courtroom that the former president is "frustrated" and "upset" by the charges.
"We're going to fight it, fight it hard," he said.
UPDATE, 3:50 PM EDT: Trump's indictment has been unsealed revealing 34 counts of falsifying business records
Trump's indictment has been unsealed. He has been charged with 34 counts of falsifying business records in the first degree. They are all class E felonies, the lowest category of felony in New York state, and carry a maximum possible prison sentence of four years each.
In New York, falsifying business records is generally a misdemeanor, but the charges can be escalated to a felony when believed to have been made in order to commit or hide a crime.
Trump likely did not have to post bail after his arrest due to laws that took effect in New York 2020 which eliminated bail for most misdemeanors and nonviolent felonies.
UPDATE, 3:25 PM EDT: Trump has left the building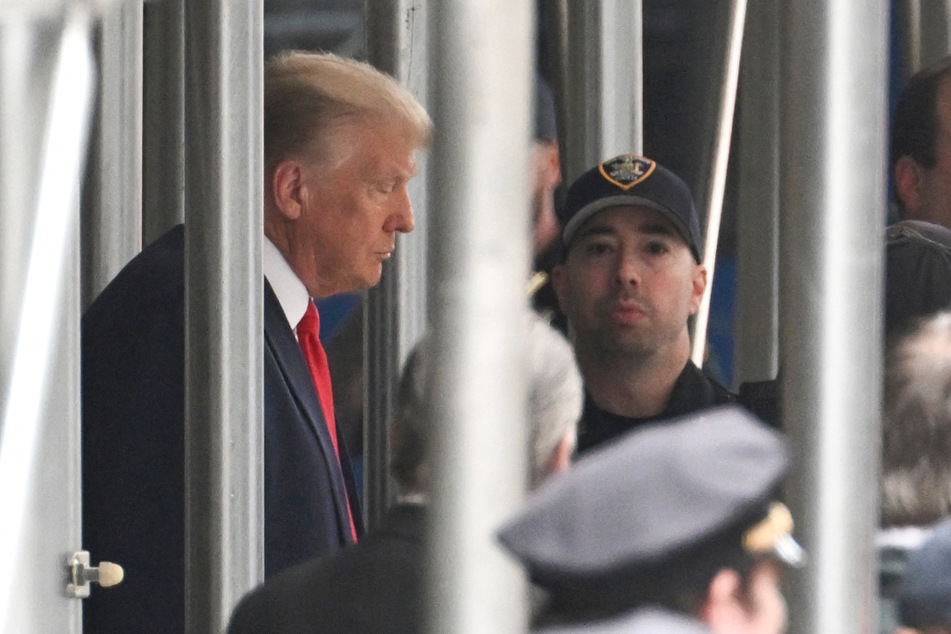 Trump's motorcade has left the courthouse. It will likely head straight to LaGuardia airport to return to Mar-a-Lago on his private plane, where he will speak to the press later tonight.
UPDATE, 2:55 PM EDT: Trump officially charged with 34 felonies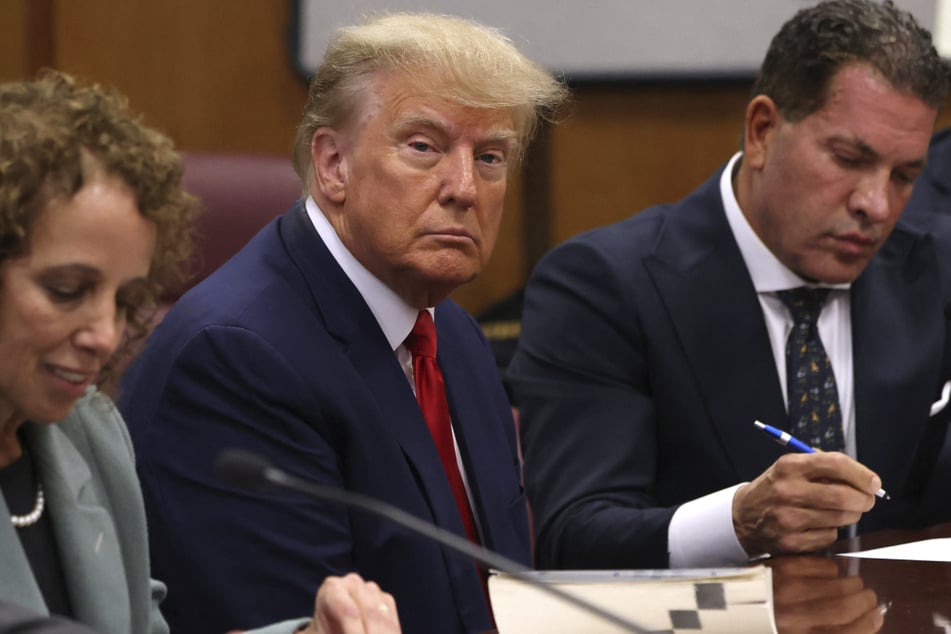 The indictment has been unsealed.
The former president has officially been charged with 34 felonies and pleaded not guilty in front of State Supreme Court Justice Juan M. Merchan.
UPDATE, 2:30 PM EDT: Trump heads into the courtroom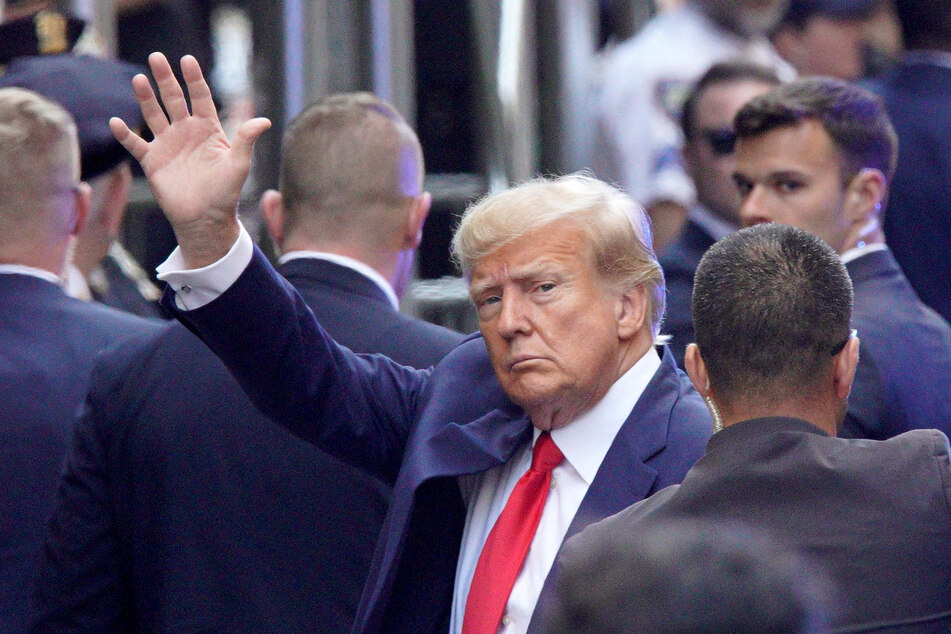 Trump has reportedly left the district attorney's office in the courthouse and is en route to the courtroom.
Charges against him will be unsealed and read.
UPDATE, 1:40 PM EDT: Trump posts a message on his Truth Social platform
Trump posted on his social media platform Truth Social minutes before leaving Trump Tower to turn himself in.
"Heading to Lower Manhattan, the Courthouse," he posted. "Seems so SURREAL — WOW, they are going to ARREST ME. Can't believe this is happening in America. MAGA!"
UPDATE, 1:30 PM EDT: Trump has entered the courthouse and is under arrest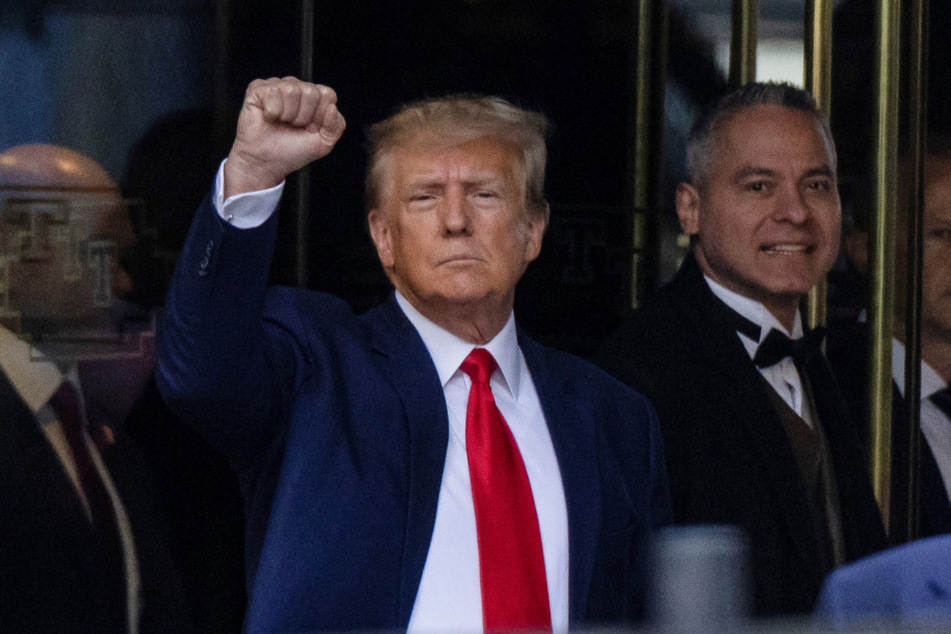 Trump has officially entered the district attorney's office.
He is officially under arrest.
UPDATE, 1:25 PM EDT: Trump motorcade leaves Trump Tower to head to the Manhattan Criminal Courthouse
Donald Trump has left Trump Tower and is on his way to the New York courthouse.
The former president's motorcade includes about a dozen vehicles, including an ambulance in case of emergencies and Secret Service vehicles.
UPDATE, 1:00 PM EDT: Marjorie Taylor Greene and George Santos head out as Melania Trump heads in
Rep. Marjorie Taylor Greene is said to have spent about 10 minutes at the rally across from the courthouse.
She addressed the crowd on a bullhorn, calling Democrats "communists" and "failures" and toting Republican stances, according to the New York Times.
"We're the party of secure borders. We're the party that will bring peace to the world like President Trump did, not World War III, like Joe Biden is doing," she said.
Her fellow Republican congress member George Santos, meanwhile, is said to have "fled the scene," feeling it was "too chaotic" and threatening, according to a reporter on the scene.
Meanwhile, Melania Trump was seen arriving at Trump Tower in NYC, surrounded by security.
UPDATE, 12:30 PM EDT: Trump expected to speak to crowd before entering courthouse
Trump is expected to say "one short line" before he enters the courtroom, his advisers have informed CNN.
His speech at Mar-a-Lago later on Tuesday night will likely be looked over by his legal team first.
UPDATE, 12:00 PM EDT: Protesters face off outside Manhattan Criminal Courthouse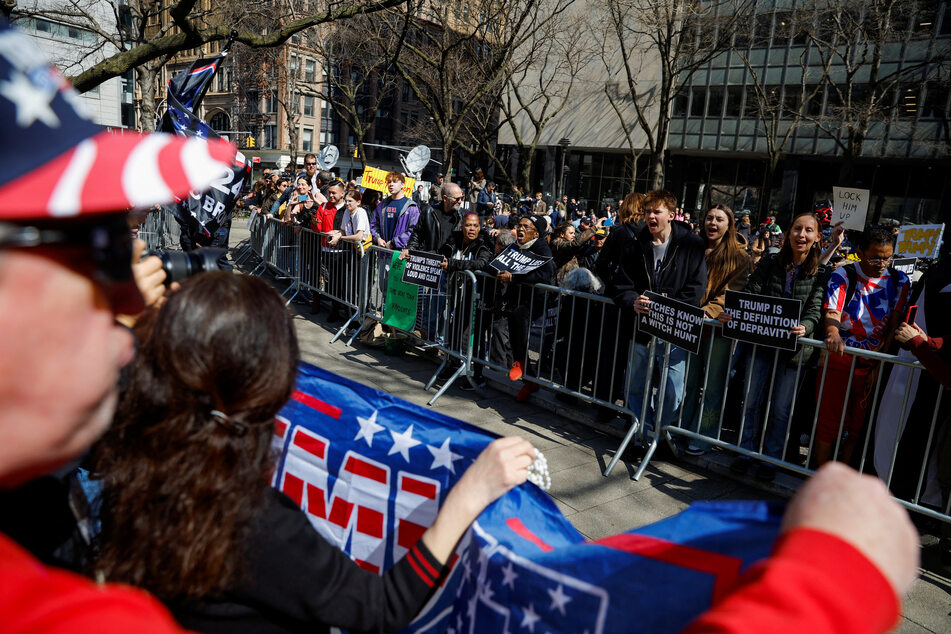 Groups of protesters have turned out outside the Manhattan Criminal Courthouse both in support of and against Donald Trump as the strong undercurrent of tension to the day continues.
On that note, the NYPD has been on high alert ever since the indictment was announced, and New York City Mayor Eric Adams has insisted that authorities are prepared to deal with any escalations.
"New York is already always, always ready," he said on Monday. "While there may be some rabble-rousers... our message is clear and simple: Control yourselves."
UPDATE, 11:30 AM EDT: MGT and Santos to reportedly attend rally
Meanwhile, the New York Young Republican Club is holding a small pro-Trump rally that's about to get a lot more attention than its numbers would suggest.
With Boston Globe reporter BidGood suggesting "a 1,000: 1 reporter to protester ratio" at the Collect Pond Park in Manhattan, far-right Georgia Rep. Marjorie Taylor Greene is expected to speak in front of the small crowd.
Another GOP member of Congress making an appearance is a certain George Santos, the New York representative who's been taking a fair shot at rivaling Donald Trump in controversies racked up.
We are now about three hours away from the time scheduled for Trump's arraignment.
UPDATE, 11:00 AM EDT: What to expect on arraignment day
Here's what to expect on a historic day, with nerves in New York City high-strung ahead of the unprecedented arraignment of a former US president.
Trump will most likely to be processed Tuesday like any other defendant, which could include a mug shot and fingerprinting – directly before being arraigned around 2:15 PM EDT. No TV cameras will be allowed in the courtroom.
He's previously said he plans to return to Florida following the arraignment and is expected to give a speech at his Mar-a-Lago estate in Palm Beach on Tuesday evening, where he's more than likely to escalate his attacks on Manhattan District Attorney Alvin Bragg.
Cover photo: Collage: REUTERS