Taylor Swift fans face strict policies at Levi's Stadium Eras Tour dates
Santa Clara, California - As Taylor Swift gears up for two nights of The Eras Tour in Santa Clara, fans are facing some unexpectedly strict policies at Levi's Stadium.
So make the friendship bracelets...but don't bring them to Levi's Stadium.
On Thursday, the stadium, which hosts the NFL's San Francisco 49ers, confirmed several surprising policies for the July 28 and 29 concerts.
First, they banned tailgating and prohibited Swifties without tickets from listening to the show from the surrounding area.
Though disappointing for many fans, such a policy has been instated at other venues, including MetLife Stadium, due to the safety concerns surrounding the congregation of thousands of fans outside the stadium.
The venue also announced that battery packs using cords or wires, such as USB cables, will be prohibited inside, but charging cases are allowed.
Perhaps most surprisingly, Levi's Stadium confirmed via Twitter that bracelets would not be allowed inside either.
While this is a rather bizarre policy within any context, the rule is particularly harsh for Swifties, as friendship bracelet trading has become a fan-favorite tradition at The Eras Tour.
Taylor Swift fans will not be allowed to trade friendship bracelets in Santa Clara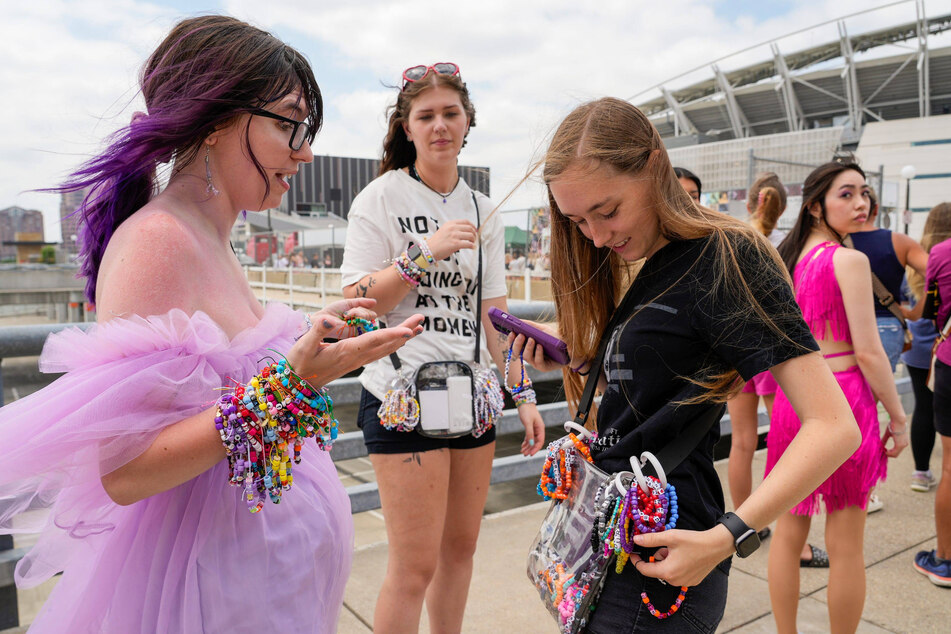 The tradition was inspired by Swift's song You're On Your Own, Kid, in which she sings, "So make the friendship bracelets / Take the moment and taste it."
Since the sold-out tour began, attendees have arrived armed with dozens of bracelets, each bearing words and phrases inspired by the Anti-Hero singer.
Though Levi's Stadium's reasoning for the ban remains unclear, it may be connected to several recent videos that showed fans tossing bracelets at the singer after she exited the stage.
Still, other venues have continued to promote the bracelet tradition ahead of the show.
Swift's next stop, Seattle, welcomed her with giant friendship bracelets displayed on the Space Needle that read, "In my Seattle era" and "#SwiftNeedle."
UPDATE, July 21, 5:04 pm EST: Levi's Stadium updates Eras Tour policy
As fans vented their frustration on social media, it seems the pressure got to Levi's Stadium, as the Santa Clara venue updated its policy on Friday afternoon.
"Friendship bracelets will be permitted at Taylor Swift | The Eras Tour concerts at Levi's Stadium. We are enchanted to see you one week from today," the tweet said.
Never underestimate the power of Swifties!
Cover photo: Collage: IMAGO / USA TODAY Network & KEVIN WINTER / GETTY IMAGES NORTH AMERICA / Getty Images via AFP